Canadian Blast @ The Barbican!
aaamusic | On 05, Jun 2011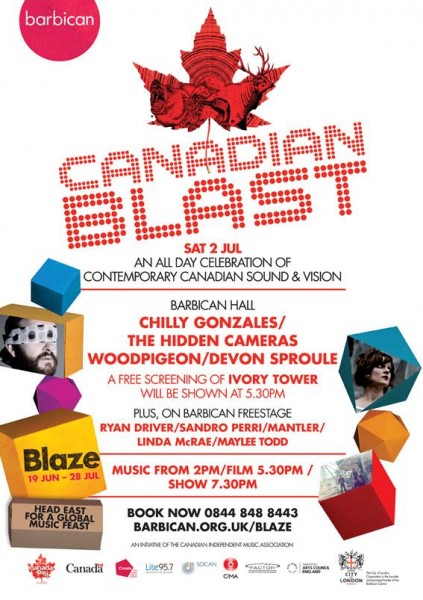 Canadian Blast: A Celebration of Contemporary Canadian Sound & Vision
Featuring Chilly Gonzales, The Hidden Cameras, Woodpigeon, Devon Sproule
July 2, 2011
at the Barbican Hall
The Barbican and the Canadian Independent Music Association (CIMA) present Canadian Blast, a celebration of contemporary Canadian sound and vision on Saturday, July 2nd, 2011. As part of their Blaze Summer Concert Series, The Barbican plays host to a day's worth of cutting edge and critically acclaimed Canadian musicians and filmmakers.
Canadian electro-pop pioneer, singer-songwriter and producer Chilly Gonzales will open the evening with a rare solo piano set to complement to screening of his film Ivory Tower. Plus lyrically astute, other worldly, almost orchestral pop from Woodpigeon, the utterly extraordinary The Hidden Cameras whose baroque chamber-pop has seen them compared to Phil Spector and Belle and Sebastian, and rootsy, folk inflected singer-songwriter Devon Sproule.
CIMA have also curated a superb free stage (running from 2.30pm) featuring performances from Linda McRae, Ryan Driver, Mantler, Sandro Perri, Maylee Todd as well as a ClubStage set from DJ Ghostcat. There is also a free screening of last year's Canadian feature film, Ivory Tower, which features a score from Chilly Gonzales, who co-wrote the film and also co-stars in it. The film, which revolves around a game of chess between two brothers, also features guest turns from Peaches, Feist and Tiga.
Canadian Blast is part of a weekend's worth of celebrations to mark Canada Day. In addition to this, there will be an accompanying open air concert in Trafalgar Square on July 1st, featuring Blue Rodeo, Karkwa and Alex Cuba. For more information, visit www.canadadaylondon.com
Tickets:  £20, £15, £12.50 from www.barbican.org.uk
The organizers would like to recognize the support of FACTOR and Canada's Private Broadcasters for their support, The Government of Canada and the Canadian High Commission in London, as well as The Barbican Centre, its supporters, CREATE London and SOCAN.
www.barbican.org.uk/music/event-detail.asp?ID=12041
www.facebook.com/canadianblast