The Naked And Famous – Girls Like You
aaamusic | On 05, Jun 2011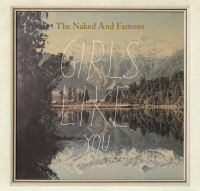 The Naked and Famous have been one of the most hyped bands of 2011, landing themselves on the BBC Sound of 2011 Poll. Their album "Passive Me Aggressive You" has already spawned three successful singles and their latest effort "Girls Like You" looks set to follow.
This song consists of a composed, almost serene verse that is quite calm with minimalist background accompaniment. However it soon descends into a desperate, almost accusing chorus "Don't you know people write songs about girls like you?" Girls like you features duel vocals from singers Alisa Xayalith and Aaron Short whose vocals blend together perfectly.
The Naked and Famous have already split public opinion with thousands of loyal fans and many others who write them off as merely riding the "NME hype wave". It is certainly impossible to ignore the obvious MGMT comparison here with layers of dreamy distortion, breathy vocals and 80s inspired synth.  The Naked and Famous are not genre-defining by any means but they are doing electro pop better than just about anyone right now.
Author: Orna Lyons