The Savage Nomads – Coloured Clutter
aaamusic | On 05, Jun 2011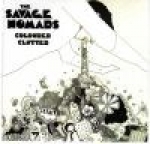 The Savage Nomads manage to incorporate a massive amount into their debut album 'Coloured Clutter.' Broadly speaking, this is indie rock at its most urgent and innovative, but this young London four-piece have spliced in elements of art-punk, dub, post-rock, punk, shoegaze and even hip hop to their recordings. And although their range of influences and genre-samplings are all over the place, this troupe of teenagers (yes, teenagers) have controlled their progressive tendencies to the point of radio-friendly accessibility.
The dub-tinged 'A Dire Dub' and the serene art-rock ballad of 'Pineapple' – with its choral and string segments – demonstrate The Savage Nomads' diversity, while the guitar-based tunes of 'Empty Seat' and highlight 'What The Angel Said' showcase their fine, indie-rock credentials.
The dynamic, electrical guitar parts are highly inventive and ferociously fired out – invigorating the whole album with music that is truly memorable and effortlessly original. But what marks out The Savage Nomads as one of the UK's most thrilling young bands is vocalist Cole Salewicz's schizophrenic range. He barks spoken-word poetry, yelps punk rock attitude, and croons with a burly baritone reminiscent of The National's Matt Berninger.
'Coloured Clutter' boasts some of the most intelligent songwriting of recent months, and this band are not afraid to play around with conventional song structures, with the results being a collection of exhilarating, expertly-crafted indie-rock songs. No wonder the Clash's Mick Jones has been banging on about them, and it won't be long before other high profile champions come out of the shadows.
Author: Clive Rozario