Kalli 'Last Train Home' – album released August 8th
aaamusic | On 06, Jun 2011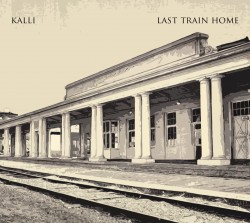 Kalli
'Last Train Home'
New Album released 8th August 2011
One Little Indian TPLP1120DL
Tracklist
1. Nothing At All
2. Laurel Canyon
3. Last Train Home
4. This Is Goodbye
5. Shine On me
6. Black To Blue
7. Dark Horse
8. Lullaby
9. One Step Forward
10. Smoke
"Affecting songs of quiet heartache" – Time Out
Drawing comparisons to those masters of dark pop realms such as Elliott Smith, Jeff Buckley, and Neil Young, Kalli (aka Karl Henry) the Icelandic singer and former Without Gravity frontman releases his new solo album 'Last Train Home' on 8th August through One Little Indian.
In May 2010 Kalli Travelled to Nashville, Tennessee and teamed up with Producer Kurt Storey.
Together they recorded Kalli's second solo album "Last Train Home" in the Burns Station Sound Studio accompanied by a cast of some of Nashville's A list session men and women – Bob Moore, Lloyd Green, JD Blair, Hargus "Pig"Robbins, Guthrie Trapp, Nathan Thomas, Jeff Taylor, Chris Henry, Buddy Spicher, Jonell Mosser all play on the record – along with Kalli's former Without Gravity's bandmate Hallgrímur Hallgrímsson (who sings background vocals with Kalli on "Shine On Me"). Not surprisingly given the contributors involved, the deft playing and lightness of touch displayed on these songs is stunning.
"I had thought about going to Nashville to record an album for years," says Kalli. "Although the songs I wrote for Last Train Home are far from being traditional country songs I really wanted to mix them up with certain country music elements and I also wanted to record most of it live in a studio with a session band. Nashville, TN was just the perfect place for me to record."
"I guess I would describe the music on the record as some kind of a mix of dark folk music and alternative country."
http://www.myspace.com/kallimusic