At Aura every Monday this summer – Starts June 27th
aaamusic | On 07, Jun 2011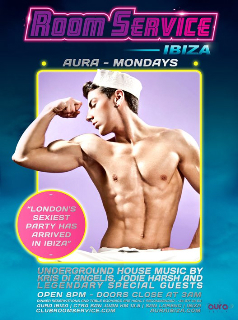 ROOM SERVICE is the party that everyone in London is talking about. A breath of fresh air in the gay club calendar, Room Service launched mid-2010 as a boutique, New York style party where the boys are hot, the beats are banging and every night is not just a disco, but a whole new adventure. Debbie Harry, the Pet Shop Boys and Roisin Murphy have dropped by. Matthew Williamson and Patrick Cox are regulars. It's become nothing short of an underground phenomenon – Jodie Harsh's uninhibitedly sexy club has set the streets of Soho ablaze and now it's coming to the White Isle for Summer 2011.
Aura, hidden away in the unspoilt north of Ibiza is THE destination for island connoisseurs. Its effortless chic makes it the number one place to see and be seen. It's a place where you can eat in a beautiful garden restaurant, drink fabulous cocktails under the stars and then step inside and party to the sounds of world class DJs, all in one setting and with no entry charge. And nowhere combines dining and partying with as much of a sense of style and fun as Aura: Kylie might have played the super clubs last August but it was Aura she headed to afterwards to relax and party with her friends. She wasn't the only one. Last summer Aura welcomed all of the most glamorous visitors to the island and there's no doubt they'll be doing the same again this year. It's the perfect hotspot for Room Service to hold its first summer residency – Ibiza's new gay Monday night out.
With a stable of London DJs such as Kris Di Angelis, Steve Pitron, James Pople and Severino joining us, along with European talent and some VERY special guests and club hook-ups, we're sticking to our music policy of underground house and sexy boy-beats, and fusing it with pure Balearic hedonism.
The HOTTEST boys, the COOLEST DJs, the most BEAUTIFUL venue, the SEXIEST Go-Go's, the WORLD-RENOWNED Room Service photographer taking the BEST shots of your life, the DARKEST corners, and the CRAZIEST hosts for what will be the GREATEST party you've ever been to, and you've never, ever, looked, sexier….
So, perfect that beach tan, pick out the perfect pair of shades and flutter that fan. ROOM SERVICE: IBIZA is about to arrive.
Entry is free. Dinner reservations are highly recommended.