Brand new single 'Rock 'n' Roll is Dead and its Corpse is for Sale' out 4th July 2011
aaamusic | On 07, Jun 2011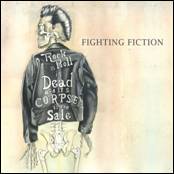 After a slew of singles and an EP FIGHTING FICTION are ready to reveal the first single from their Mark Williams (Biffy Clyro, Bloc Party, Million Dead, Oceansize) produced debut album. New single 'Rock 'n' Roll is Dead and its Corpse is for Sale' will be released on 4th July 2011 (Independence Day) through Xtra Mile Recordings (Frank Turner, Crazy Arm, Far…).
The single, which has already seen strong support on Mike Davies Radio 1 Punk Show, sees the Bristolian's steady evolution reach new heights and proves the perfect stepping stone before the release of their debut album which can be expected in September 2011. 'Rock 'n' Roll is Dead…' offers thought provoking lyrics that challenge what musicians stand for in this modern age, selling their souls to large brands that want to try a buy a piece of credibility.
Speaking of the single and forthcoming album frontman Jacob Glew says "This is an album conceived over weekends and late nights in living rooms and start up studios, we've spent every hour we have spare pouring ourselves into these ten songs to make them the best they can possibly be, they're personal and political, recorded by our friend and fantastic producer Mark Williams and played by us to the best of our ability we want every note and word to sound like we meant them, because we did".
The band will be relentlessly touring the UK circuit in support of the single. Catch the band at the following venues:
9th July – The Square, Harlow
11th July – The Hobgoblin, Brighton
15th July – 2000Trees Festival, Gloucestershire
23rd July – Palladium Club (Beta Fest), Bideford
14th September – Sticky Mike's Frog Bar (Previously Jam), Brighton
15th September – Goblets, Southampton
16th September – The Nags Head, High Wycombe
22nd September – The Cavern, Exeter