HOME OF METAL EXHIBITION AND CONFERENCE TICKETS NOW ON SALE
aaamusic | On 07, Jun 2011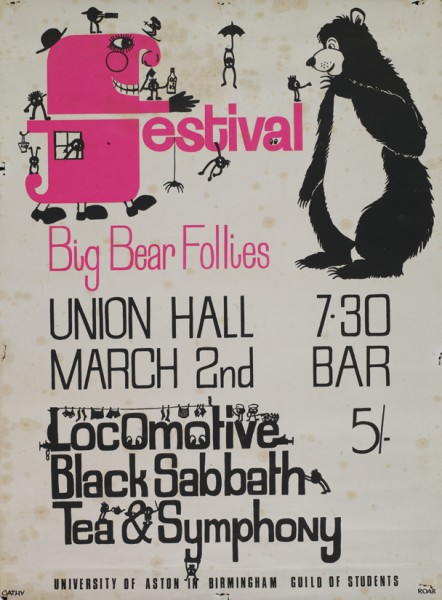 "Heavy Metal was born in the West Midlands and has developed a global following matched only in Hip-Hop. It's time to stop sneering and celebrate this proud cultural heritage…" New Statesman
"I'm really proud to be a Brummie and to call Birmingham my home, that's why I'm supporting the Home of Metal events and message. Your surroundings and experiences influence your music so it's important for people to know where that music came from!" Tony Iommi, Black Sabbath
Four decades since heavy metal was unleashed onto the world, Home of Metal arrives this summer, presenting a series of ambitious exhibitions and associated cultural programme which explore the foundations, social context and heritage of heavy metal culture, which has gone on to be a global phenomenon. Tickets for the conference and the huge Birmingham Museum and Art Gallery exhibition are now on sale!
For too long Birmingham and the Black Country have failed to celebrate what is rightfully theirs – to claim the city and the region as the birthplace of 'Heavy Metal'. Curated by Capsule, Home of Metal is a celebration of the music that was created in the West Midlands, its legacy and influence across the world.
Home of Metal focuses on the Midlands-born innovators of the genre and those that continued to develop it. From Black Sabbath, unquestionably the founding fathers of Heavy Metal, Judas Priest, defenders of the faith whose twin guitar attack paved the way for multitudes of melodic metal acts in their wake to Napalm Death, whose first two albums introduced grindcore to an unsuspecting world.
Informed by personal collections and iconic material from the Home of Metal digital archive, Home of Metal also features an original solo exhibition from acclaimed contemporary artist Mark Titchner, as well as work by French artist and grindcore fanatic Damien Deroubaix and Napalm Death founder Nicholas Bullen.
In addition to these exhibitions, Capsule is excited to announce a series of further exhibitions including Manufactory: Chris Coekin, featuring beautifully detailed photographs and recorded sounds from the floor of a heavy industrial factory. Taking inspiration from 19th-century trade union banners, Coekin has collaborated with workers to produce portraits, alongside images of an industrial environment that has been shaped by 175 years of heavy manufacturing. At Dudley Museum and Art Gallery, Metal celebrates the links between metal manufacturing in the Black Country and Heavy Metal music, with a diverse and beautiful display of minerals and metal ores.
Special events across the Summer include DIY guitar and fanzine making workshops, a special 'bring your own metal memorabilia' day, and 'Bat out of Hell' – series of Bat walks in Haden Hill Park. These will be followed by a Home of Metal weekend in September 2011, which will include a metal conference, film programme and series of concerts.Highlights from the 2011 programme include:
Home of Metal – an exhibition exploring 40 years of Heavy Metal and its birthplace.
This will be the core exhibition at the prestigious Birmingham Museum and Art Gallery, taking over the largest UK temporary gallery space outside of London from 18 June-25 September. Informed by original band artefacts and materials from the Home of Metal digital archive, the show is the first metal exhibition of its kind, bringing together unseen memorabilia sourced directly from the fans themselves, and placing it alongside iconic items from metal such as Black Sabbath's Mob Rules stage cross and handwritten Napalm Death lyrics. The show will also explore the ingredients that together made Heavy Metal, offering an insight into the region's industrial history, the early blues-rocks sound, the changing music industry, DIY politics and the global impact of the heavy metal.
As part of the Home of Metal season, The New Art Gallery, Walsall will also be presenting a solo exhibition by internationally renowned artist and former Turner Prize nominee, Mark Titchner, BE TRUE TO YOUR OBLIVION. The exhibition will feature newly commissioned work such as Be Angry but don't stop breathing (II), in which visitors are encouraged to engage in a group primal scream exercise which visualizes the vibratory nature of sound. The sounds produced by the screams are processed and used to vibrate trays of ink attached to loudspeakers. Influenced heavily by metal music and the associated aesthetics, Titchner's Turner-nominated Ergo, Ergot will also be on display, which references the iconic Vertigo logo.
Opening in July, Wolverhampton Art Gallery will present You Should be Living: The Visual Language of Heavy Metal, an exhibition which explores the relationship between heavy metal and artists inspired by the genre, using typography, vintage t-shirts, sculpture and sound to explore the varying aesthetic of Heavy Metal and its relationship to contemporary art. Thirty years after the formation of Napalm Death, French artist and grindcore fanatic Damien Deroubaix and Napalm Death founder Nicholas Bullen will present their sculptural construction containing text and abstractions, referencing the work of both artists and the first Napalm Death album 'Scum'.
Also in July, Walsall Leather Museum will be displaying stage costumes worn by local heroes of the Heavy Metal scene as part of the exhibition Hell Bent for Leather: Judas Priest and the Heavy Metal Look. This will be a rare opportunity to see costumes from the band's private collection.
Manufactory: Chris Coekin and Metal both explore the links between the region's industry and the creation of heavy metal music. For Manufacory, Chris Coekin has produced beautifully detailed photographs and recorded sounds on the shop floor of a heavy industrial factory. The rhythmic factory sounds recorded by Coekin have been outputted onto vinyl record to capture the intensity and psychological experiences of working within an industrial environment. The exhibition invites the audience to participate by physically playing the vinyl records on vintage record players and viewing the large-scale images, which symbolise the last days of British industry.
Spanning historic times through the industrial revolution to the present day, Metal illustrates the many uses of and products made from metal, including how metal makes Heavy Metal music.
There will also be Home of Metal exhibitions at The Public, Bilston Craft Gallery and Dudley Museum & Art Gallery.
Bringing people together to share their passion for heavy metal music, Home of Metal's ambitions include the development of heritage tours and ultimately a permanent collection dedicated to telling the story of Metal and its unique birthplace for fans to visit in the future.
These exhibitions form part of the 2011 programme, which will also include a touring film programme, concerts, further exhibitions and a heavy metal conference.
Further details to be announced.