REVOKER CONFIRMED AS SUPPORT FOR OZZY OSBOURNE KERRANG! 30TH ANNIVERSARY SHOW
aaamusic | On 07, Jun 2011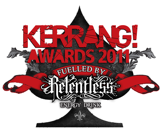 REVOKER CONFIRMED AS SUPPORT FOR OZZY OSBOURNE KERRANG! 30TH ANNIVERSARY SHOW
Welsh metal quartet Revoker, the most recent addition to the Roadrunner Records' stable, have been confirmed to support Ozzy Osbourne at the HMV Hammersmith Apollo in London on 21 June. This one-off show is part of Kerrang! Magazine's 30th anniversary celebrations.
Tickets for the show (which is open to those aged 14 years and over) are priced at 32.50 and available now from www.aloud.com
On their Roadrunner Records debut, REVENGE FOR THE RUTHLESS, Revoker fuse menacing thrash riffs with infectious choruses. Songs like first single and BAMMA theme tune "Stay Down" soar with anthemic hooks, while the corrosive "Psychoville" converges bruising melodies and unpredictable vocals. The United Kingdom has produced some of hard rock and heavy metal's most beloved acts, and these four lads from Wales continue that tradition. Revoker—Jamie Mathias [Vocals, Guitar], Chris Green [Lead Guitar], Shane Phillips [Bass], Jack Pritchard [Drums]—are about to gate crash your world.
Ozzy Osbourne will be crowned Kerrang! Legend at next week's Kerrang! Awards 2011 fuelled by Relentless Energy Drink.