San Miguel Primavera Sound 2011
aaamusic | On 10, Jun 2011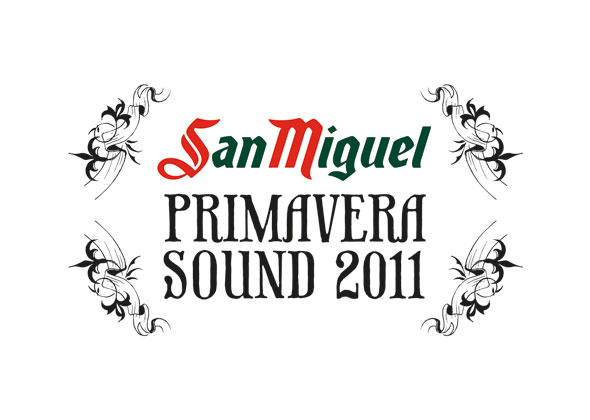 Almost two weeks after another successful edition of Primavera Sound festival time was enough to work my mind regarding what were the ups and downs of such hectic weekend. Here we go again then, the usual diary is about to land!
Wednesday, 25th May
There is no better kick off to a fest than missing it completely. Actually I was there, I simply could not get in. To cut it short, organisers set up two additional evenings of shows at the former festival's site, the Poble Espanyol, a cheesy and touristic model/museum of a medieval Spanish village (hence the name). So the festival would open and close where it all started in 2001, bringing the spirit back to where it once belonged. Fine enough, had the place been big enough to hold the large crowd it attracted. You would take the route up from Plaça Espanya and massive lines for ticket exchange would be all you could spot for a good while on: no time to even reach the proper queue for entering and we heard that it had exceeded its capacity already, leaving us forced to miss Echo & The Bunnymen playing Crocodiles and Heaven Up Here. Hell. Rumors have it this was everything but a remarkable set though, with an awkward Ian McCulloch far from looking at ease onstage and barely speaking words to the crowd. The other highlight of the evening, Caribou, was said to have been brilliant instead. Lucky attenders. Me, I headed for dinner with friends to Barceloneta where we had a delicious meal in a tiny pleasant bar. Never been in love with the area to be honest but certain memories can change your feelings. Not sure if the place had any music going but hey, the fest always starts on Thursday, doesn't it?
Thursday, 26th May
And here we were. Landing in time to have the wristband given (queues at press area were long, though), the festival opened with possibly the biggest failure ever. They had been promoting a new system for drinking within the arena which consisted in associating your credit card to an electronic account days before it started, so you could basically load some cash at home avoiding the queues to get beverage tickets. The only problem – two actually – were: last year's queues were all but horrible (I remember taking no longer than 10 minutes to have my tickets for the whole weekend sorted); you'd better practice before launching such big campaign. In fact it turned out to be an epic fail – sorry to say that, but it really was – with the system collapsing before even starting and tons of people queuing up at boxes to try to understand what was going on. Result is you couldn't get any drink for hours: not only you couldn't load cash at the place, but the poor ones that had probably thrown some good hundreds on it were forced to ask for refunds the following nights. YES it failed miserably BUT organisers were good to sort it quickly enough, eventually letting us pay cash at bars and paying back the ones in need. As much as I've never ever criticised the festival before I just had to state this, hoping it won't happen again. I felt it wasn't the sharpest move ahead of it, even more shocked it worked out that badly.
Back to music now! Having missed my first target of the day, Spaniards Triangulo de Amor Bizarro, my 2011 edition opened with Moon Duo at Ray Ban stage. Being the side project off Wooden Shjips's guitarist, the set took very little to resemble the main band's sonic attitude, with plenty of psychedelic action and dark vibes spreading across the audience – even though the light was still pretty clear back then. After a walk around the arena to discover what was new this year, we sat for Seefeel at ATP. Having seen them in Salford earlier in the year I could just give them a few shots, walking away with the very same idea that their live shows just won't do it for me. Next on it was time to check the P.I.L. reunion, something you might expect to be quite upsetting given that John Lydon was basically the only founding member on board. I could not be any wronger as things definitely took a rad curve with the band building a trancey mood throughout most of the songs, and plenty of hi-hat work (provided by Pop Group's Bruce Smith) adding a dance feel to the performance. Classics like Albatross and This Is Not A Love Song made the night for the fans, and I can't say I couldn't be happier to see my skeptical attitude cornered. Later on Glenn Branca directed his band for some 50 minutes of noise on the ATP, guiding five guitarist to build a wall of sound that must have offended the nearby stages as a whole. Not all songs – or compositions? – were really unforgettable but as the sound grew louder you could feel something was at play. A friend told me about a London show involving some good 100 guitars, describing it as if a space shuttle was in the bloody theatre. Not as intense as that certainly was but entertaining enough indeed. It was then time to move on to catch another legendary act on the Ray Ban, New York's very own Suicide. Now, one might notice Martin Rev and Alan Vega are the furthest thing from fashion icons – in fact the first was sporting some light-glasses that would fit a 80's or 90's revival party while the latter did resemble an older Gaddafi – and it is well true; still they reminded us why were the coolest thing during the punk era as they launched into their 1st LP celebration, screwing the keyboards for what was the closest thing to sonic terrorism I had heard in years. I couldn't care less if Vega's vocals were barely audible or anything else, the duo took punk back to its core playing a fuck-all set which could only be offered by the most radical pair of lads around. What else could you possibly want from the band in 2011?!
We walked away to catch some Caribou action after missing out the day before, reaching a packed ATP but witnessing the beauty of the show for 20 minutes only. Now, one would be taken to regret missing a good set in usual circumstances, but at this special festival you get used to clashes and won't lose your sleep since good bands are always on at any time. That's why, walking to the San Miguel main stage, the thought of enjoying another Flaming Lips show five years after the very first time on that very same stage quickly erased the trails of the Canadian's gig. The nightmare was just round the corner, though. Wayne Coyne first appeared and had a speech translated which basically warned people about strobe lightning. Ha. By the time he walked all over the audience in his space ball, anyway, things looked fine enough. Then they kicked off the show and painful vibes started to float in as  endless pauses between songs, the frontman keeping on calling for noise every bloody minute – who is supposed to do the show, sir? – and tedious reprises of each song seemed to be the same refrain over and over. In 30 minutes you'd have heard no more than 5 songs, which was something absolutely unbearable. She Don't Use Jelly couldn't make it for the whole thing, and tracks like Yoshimi (an acoustic rendition that could well be avoided at that point) and Where Is The Light just added misery to an already mounting agony. I felt I should have walked to Gold Panda after three songs, but I just couldn't give up believing things were to turn for good. Now I wish I had followed the first alarm. Unbelievable how one of the life-changing shows ever can become such a joke: wishing 2006 was still there lasted no more than a few seconds, though. We headed down to ATP where we enjoyed an outstanding set by London's Factory Floor, whose supposed Joy Division's similarities were washed away in the blink of an eye as they stormed into a fierce and aggressive techno set, in fact it felt like we were in a Berlin club enjoying some dark beats for a whole night of dance celebration. Stunning to say the least, really. At 4.45am there wasn't much left to enjoy so we headed over to the Llevant stage, the crazy far stage that had Girl Talk mashing up the weirdest stuff like a very old school 2 Many Djs set. Imagine Lady Gaga being mixed with the likes of Bon Jovi and Ace of Base and you basically have it. Stadium reaction like you'll never find again as the light was approaching, crazy dancers onstage and the dj jumping on the control desk enjoying a sea of arms waving up to the sky. What a party. Enough to seal day one in high spirits.
Friday, 27th May
Day two kicked off at ATP with Lichens, the kind of stuff they like to put on at some point every year. Ambient sounds for a tiny audience, and you could well tell why. Too much to take, honestly. We waited for The Monochrome Set to play their honest new wave numbers – a special mention goes to the woman-dressed male keyboardist, the one who seriously caught the eyes – and then all I recall is being there for James Blake at the Pitchfork stage looking over to the tons of people coming down for the show. How weird. One of the most boring things around, and yesI DO have a heart. A friend of mine who had never heard him before was so shocked he informed us he would rather listen to Cher singing through her vocoder than standing there for nothing, and I can't say I didn't agree. Hype + Antony vocals alike made the damage to me. We went back to Ray Ban to catch some Pere Ubu performing their Modern Dance album, preceded by the early singles Heart of Darkness and Final Solution finding their space after a very alcohol addicted David Thomas announced the album would only take them half an hour, but they were scheduled to play for twice the time: they rocked from beginning to end. Not the same can be said about Belle & Sebastian, who were on the main stage after the controversial and rather harmless Ariel Pink's Haunted Graffiti. So it was all up to the Glasgow band now, whose large crowd must have felt puzzled to say the least as they embarked on a greatest hits set that had the worst volumes ever. Dull as a dead bull, really, in addition to  Stuart Murdoch not really working through speeches between songs as you would normally expect him to. Setlist spanned across their large discography with tracks like Stars of Track and Field, I'm A Cuckoo, The Blues Are Still Blue, Sleep The Clock Around and Le Pastie de la Bourgeoisie as well as recent songs off the last album, but things simply were not working. They might not fit for a large stage but that night they did not really sound like a band at all. Thumbs down. Since Explosions In The Sky were the last thing I would have wanted to hear, we reached the ATP and patiently waited for another round of Shellac, the only band you are always sure to find on the festival's line up even before they start announcing names. By the time they launched into My Black Ass they state once more they can set such heights you will not be coming any close ever. The band looked in the best shape, with a skinny Bob Weston (I mean, skinny for his standards) driving the orchestra in the epic Steady As She Goes. Not that Copper had sounded any peaceful, mind: you can always go with confidence when it comes to such amazing live act.
1.30 into another long night and as we approached the San Miguel a stunning wall of people was already standing nearby the main access as the Pulp fever was in full swing. Jarvis Cocker and band-mates were probably the most awaited attraction this year and their reunion managed to call thousands of fans from all over Europe. You could clearly see the band was up for it, with the Sheffield born frontman really making the show which featured a vast collection of their best hits. Vibrating renditions of Do You Remember The First Time?, Sorted for E's & Wizz got the crowd to absolutely nuts, plus an outrageously epic singalong to Disco 2000 – one of the best moments of my six editions – that was briefly introduced by Jarvis in a quick and basic catalan: Vols ballar amb mi? (Wanna dance with me?). And the rest is history. There was even time for getting a boy to propose in front of the tv cameras – with Jarvis playing the priest – before he dedicated another anthem – Common People – to the peaceful "indignados" of Plaça Catalunya, who had just been beaten hard by the police earlier in the day. No need to say it was another classic moment. As the band got back and played one last song, giving an homage to the city's big sized disco Razzmatazz, the perception was clearly that of an unforgettable show whose memories will long live in years.
A quick walk down to the Ray Ban was next, as Battles were ready to launch into their math frenzy driven by the godlike drummer that is John Stanier. Although the show was focused on their new album only, leaving a bitter taste in the mouths of who were there for Atlas or Tonto, the set was an energy blast indeed. As the band walked offstage in sweat there was just the time to catch a glimpse of the final bits of Lindstrom, whose spacey and ethereal live show would have deserved a longer timing. Lights went on and security pushed people back to the exits before a free ride on the tram left us at Vila Olimpica at 6 in the morning and that's where, after reaching the underground, we had the pleasure of watching the worst scenes ever of people coming out of the posh – but rather dirty – clubs of the nearby seafront. Heck. What did we do wrong?
Saturday, 28th May
A pleasant and tasty – yes tasty if you know the bars – walk around the Poble Nou area warmed up for the final shot of the fest, at least when it comes to the Fòrum gigs. First act to be caught was indie's new sensation Yuck, the guitar pop act who mix melodies and noise reminiscing of Smashing Pumpkins, only they still have a long way to go before they can fully claim their space in the rock elite: the show was well played but lacked of confidence to make the big step – yet? – leaving me convinced they are still an interesting teen band with plenty of work ahead. Next on was the soft pop band Phosphorescent, offering an entertaining set absolutely enjoyable to watch seated. That was before we moved to the Ray Ban Unplugged some good 20 minutes ahead of Dean & Britta's performance. Now, Dean Wareham is one of my heroes and the chance of catching him twice in a day added a special feeling to an already emotional approach. Playing with the band was long time friend and cult legend Sonic Boom, who sat at the side working the a tiny casio keyboard. The short set included a D&B classic, Knives From Bavaria, Dylan's I'll Keep It With Mine – featuring in last year's 13 Most Beautiful.. – as well as a fantastic rendition of Snowstorm by Galaxie 500 – that would later be played again – and the conclusive Indian Summer by The Beat Happening, a classic feature in their usual setlists. Brilliant to say the least.
After such promising start it was obviously down to some good old footie, with Champions League final between Barcelona and ManUtd going on in London. The festival had set up a big screen in the Llevant area, the only one that could host such a large number of people without having the paths jammed up. There I stood until Rooney scored the illusory equaliser, an hour before blauganas could double their joy since 2009's final in Rome – which happened a day before the 2009 edition kicked off. So I walked back to Ray Ban where Berlin's Einsturzende Neubauten were killing anything on their way, reaffirming their noise still hurts deep 30 years after their foundation. I didn't spend too much watching them anyway since the night schedule was going to be pretty stressing. Pitchfork was awaiting for a triumphant Gang Gang Dance set, and the band took very little to embark on one of the best music journeys of the weekend, providing a shocking lot of good vibes splashed up with eclectic dance and ethnic grooves. The fact that sound desk engineers were screaming at Barça's 3-1 added a victory feel to the ongoing set, which showcased material from their brilliant new record. However clashes were always the biggest threat so I had to leave at some point to get a good spot for another big act. PJ Harvey landed on the main stage dressed like a Victorian age lady, something I actually hoped to be over after her (amazing) White Chalk tour. The problem is simple: once you've seen her rocking out with a guitar you can never commit to seeing her this way without ever wishing she can get back to her roots. She was great, because she'll always be a goddess: her voice, her presence, her intensity, her. Still I could only resist half an hour, a timing that would have possibly been extended had she done what she does best imho, but at that point only Dean Wareham existed. Kicking off his Dean Wareham plays Galaxie 500 show with Flowers, you knew something big was ahead. And fucking hell it really was. Hearing classics like Blue Thunder, Snowstorm, Don't Let Our Youth Go To Waste, Strange, Tugboat, Fourth of July.. As each song went by I had the impression of things getting better and better, the climax reaching unbelievable heights and the band sounding tight and powerful as ever – with Dean's vocals hitting it all right and Britta's choirs backing them sweetly enough. For the writer, the best show of the weekend without a single doubt. I've always been more like a Luna fan to be honest, but hearing such songs live creaked my ideas more than once, threatening me to revise my personal hierarchy. I'll go on and say that, while Luna mean a lot to me in a very personal way – memories placed in certain time and space – G500 remain a golden treasure. As they embarked on the last waltz, New Order's Ceremony, the world could have ended right there. Instead, I am here to tell that it was magic. Bliss.
We headed to Mogwai for some 25 minutes of action, and it's always good to see that they keep evolving for the usual post rock structures that have personally bored me for years. Then we were back to the ATP for The Jon Spencer Blues Explosion, another usual killer act live which was unfortunately packed enough to keep me far from the stage, where the sound wasn't good enough to enjoy the usual blues punk fury of the legendary frontman. I wasn't a newbie so I stuck with the beer before going back to the main stage for Animal Collective. All I had was a funny chat with my flatmate, though, since the band didn't look to know where they were really going. Their trancey mantras were far from being well received and I have to say it was such a boring show that not even drugs would have helped to raise its profile or appreciation. Duh. We made all that annoying walk back to Llevant for DJ Shadow but it really felt distant as well, something you actually enjoy at home more than onstage. In fact getting to dance was really hard. How I missed the Haçienda in its usual location, shame they chose to remove a stage this year, some kicking techno was really missing. We waved goodbye to the Fòrum after a puzzling Kode 9 set but the morning wasn't going to be over as we still were to enjoy some stoned moments back in our Verdaguer flat. Glorious sunrise that was, laughter crisis and all that stuff.
Sunday, 29th May
The final evening of the fest was way less crowded than its beginning so we could actually get into the Poble Espanyol without any issue, as most of the people had probably packed their stuff and jumped on a plane back or chosen to relax on the beach after such tiring days (you end up losing pounds, seriously). So there we were, walking around the village scoring cheap beers instead of the festival's bars. You could really get one for half the price! Back to music, we barely saw the Spanish act that played before Scotland's BMX Bandits, a band I wanted to check because of their brief passage on the mighty Creation Records. To be honest, those reaching the area late did not miss much as I only remember hearing a Daniel Johnston's cover before hiding and targeting a dinner. But this wasn't to be the very end. Mercury Rev were to offer a second show of their Deserter's Songs album play, given that they had just given the Auditori audience the shivers 24 hours earlier. Never seen them before as I never got the chance I am now glad to have done it this way. The brilliance of the album's epic moments were given full justice as the band recreated the spectacular fable mood running through the songs, and tracks such as Endlessly and Goddess On A Highway sounded as perfect as you wished them to. Only Jonathan's frequent poses may have been a little disturbing at times, but truth is you simply could not say a bad word regarding their show. As their encore included All Is Dream's The Dark Is Rising we could really be satisfied enough for such good ending and we ran to the underground to meet with friends for a last glorious booze before bars shut down and a final sleep would send us back to our usual routines. Adeu, Catalunya.
Daniele Boselli