Extra Classic release 'Congo Rebel' video. Debut album on 26th September
aaamusic | On 11, Jun 2011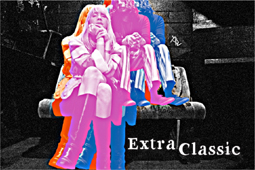 Manimal Vinyl's latest signing, Extra Classic announce the release of their debut album on 26th September, entitled, Your Light Like White Lightning, Your Light Like A Laser Beam.
Paul Beahan, the man behind Manimal Vinyl, who has released records by Warpaint, Sister Crayon, Rainbow Arabia and papercranes, said of his most recent addition, "It started out as a dreary day in Los Angeles when I curiously received a cd-r from a band called Extra Classic. Having no expectations, I popped the disc in my player and within minutes the sun was shining and the smell of tropical coconuts, rum and ganja filled the air….MANIMAL will never be the same.."
In order to capture the sonic quality of old Jamaican recordings, Extra Classic recorded the tunes on their forthcoming full length, all-analogue. All songs are recorded on 8-track tape along with vintage recording equipment from the 60's and 70's.
Extra Classic are Adrianne Verhoeven and Alex deLanda from Lawrence, KS, and are now based in San Francisco.
Adrianne Verhoeven played keys and sang in The Anniversary from 1997-2003. Following this, she worked on honing her singing and song writing skills while collaborating and playing with various musicians and music projects. In 2007, Adrianne released her own album under the name "Dri", entitled Smoke Rings (Range Life Records, 2007). While playing and touring throughout the US in support of Smoke Rings, Adrianne and Alex have played with bands such as Modest Mouse, The Handsome Furs, Conor Oberst, and The Fruit Bats.
Alex deLanda is a songwriter/producer based out of San Francisco. Some of Alex's projects have included recording and producing The Donkeys' album, Living on the Other Side (Dead Oceans, 2008). Alex played bass and engineered the acclaimed album from The Papercuts, Can't Go Back (Gnomensong Records, 2007); he has also played bass and assistant engineered for Casiotone For The Painfully Alone (Tomlab). He maintains an analogue recording studio in San Francisco where he has most recently recorded and produced Extra Classic's debut album.
Extra Classic recently released a 7"/45 limited-press vinyl single of "Congo Rebel b/w Version" on their own imprint/label, Nopal Records. Another limited edition 45 single from the album is currently being pressed and will be released in July.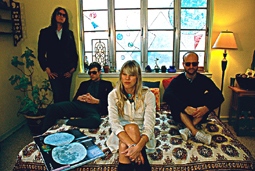 As a touring/live band, Extra Classic is a five-piece band consisting of Adrianne Verhoeven (vocals/keys), Alex deLanda (bass), Josh Adams (drums), Dustin Kinsey (guitar) and David Wetzel (keys)