More huge names announced for Jersey Live 2011…
aaamusic | On 11, Jun 2011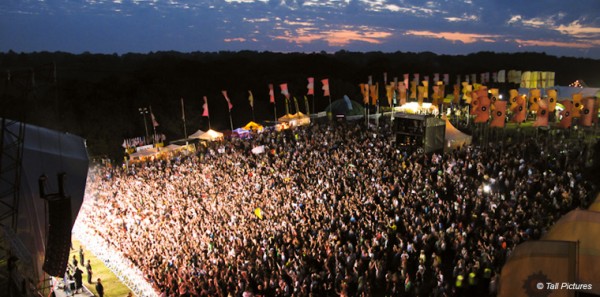 Following our recent exciting line up announcements the Jersey Live line up is nearing completion and we are pleased to have confirmed some massive names for the Main Stage and Dance Arena. Joining the likes of Plan B and The Ting Tings on the Sunday 4th September bill are Welsh rockers Feeder, while on Saturday 3rd September, critically-acclaimed Malian duo Amadou & Mariam will join Madness and The Streets on the Main Stage line up. Meanwhile, London-based producer/DJ Alex Metric has been confirmed to support Sasha and Mr Oizo in the Dance Arena on the Sunday of the festival.
FEEDER
Main Stage, Sunday 4th Sept

Formed in Newport in 1992, Feeder are, according to the Guinees Book of Records, one of  the most successful UK chart acts of all time, with three platinum, two gold and one silver-selling albums. Having released seven studio albums in total, they remain as enduring as ever, with a follow-up to 2010 LP 'Renegades' due out this year.
After receiving critical acclaim for their debut album in 1997 (the band were described by many in the UK music press as 'Britain's answer to The Smashing Pumpkins'), Feeder embarked on US tours, appearances on Top of the Pops and support slots at Wembley with Red Hot Chilli Peppers and at the Millenium Stadium with Manic Street Preachers in 1999. They truly broke through to the mainstream with the lead single, 'Buck Rogers' from their 2001 album 'Echo Park'; both the single and album reached number 5 in the UK charts.
Following the tragic death of their drummer Jon Lee in 2002, the band took a break before taking the decision to continue, joined by former Skunk Anansie member Mark Richardson. What followed was their most commerically-successful album yet, the platinum-selling 'Comfort in Sound'. Legendary performances at Reading Festival and Glastonbury were followed by a Best British Band win at the Kerrang awards (beating Muse and Stereophonics) and a Brit Award nomination for Best British Band in 2004. They cemented their place in pop royalty with their contribution to Bob Geldof's Band Aid 20 charity ensemble.
One of Britain's best-loved rock outfits of the past twenty years, Jersey Live look forward to welcoming them to this year's festival. With anthems such as 'Just The Way I'm Feeling', 'Tumble and Fall' and 'Feeling a Moment', we have no doubt that their appearance at the festival will go down in Jersey Live history.
AMADOU & MARIAM
Main Stage, Saturday 3rd Sept

Married couple Amadou & Mariam hail from Bamako, Mali, and although they have made music together since the 1980s, it is since their 2006 Manu Chao-produced album 'Dimanche a Bamako' that they have truly broken through to the mainstream; they are now regarded as arguably the world's most popular 'world music' act. Having written the offical anthem of the 2006 World Cup in Germany, they opened the door to a new European audience, and highly-esteemed fans include Damon Albarn, who invited them to support Blur at their historic Hyde Park reunion shows in 2009, and Simpson's creator Matt Groening, who hand-picked them to perform at All Tomorrow's Parties Festival which he curated in 2010. They also supported U2 on the South African leg of their '360' tour.
Melding traditional elements of Malian music with rock, Syrian violins, Cuban trumpets, Indian tablas and Egyptian ney, their sound has been described as 'Afro-Blues'. With only the slightest suggestion of a Western sound, it is their pop sensibility and undoubted talent for songwriting that has made them such favourites in Europe.
The pair are known as 'the blind couple from Mali'; Amadou lost his vision at 16 while Mariam became blind as a result of untreated measles at the age of 5, and it was in the Mali Institute for the Young Blind' that they first met. As well enjolying a highly successful music career, they have lent their time to many good causes; in 2009 they became cultural ambassadors for the Zeitz Foundation, commited to sustainable ecosystem management; in 2010, they contributed a song to the 'Raise Hopes For Congo' compilation, aimed at protecting and empowering women in Congo.
Their warm, summery sounds add yet another diverse dimension to the Jersey Live line up, and if the devotion they inspire in the UK and Europe is anything to go by, the festival audience will surely take them to their hearts this September.
ALEX METRIC
Dance Stage, Sunday 4th Sept

Until recently a resident DJ on Radio One's 'In New DJ's We Trust', Alex Metric (real name Alex Dury) has been no stranger to plaudits in recent years. Starting out his musical journey as a breakbeat producer, he began to turn heads after being voted Best Breakthrough Producer at the renowned Breakspoll (international breakbeat) Awards in 2008. Having produced remixes for the esteemed likes of Bloc Party, La Roux, NERD and Depeche Mode – as well as producing records for prominent dance acts The Infadels and Adam Freeland – he was ranked in 2010 by Clash Magazine at number two in their list of best DJs, pipped to first place by Brodinski. His latest single, 'Open Your Eyes', a collaboration with indie legend Ian Brown, was met with rave reviews.
With a fusion of styles leaning towards breakbeat, techno, house and rock, Alex Metric's DJ sets are notorious on the festival circuit; this summer he will be performing alongside the likes of Black Eyed Peas and David Guetta at London's Wireless Festival, as well as Oxegen and Creamfields, before he rounds off his busy summer at the Royal Jersey Showground in September.
MORE ACTS CONFIRMED…
BENJAMIN FRANCIS LEFTWICH
On Saturday 3rd September, 21-year-old York-born singer-songwriter Benjamin Francis Leftwich will be the first UK act to perform on the Main Stage, following local Battle of the Bands winners The Little Big Band. Much-vaunted by the likes of Radio One's Zane Loweand Main Stage compere Huw Stephens, his dreamy acoustic folk has been compared to Nick Drake and won him a keen following so far in 2011, and with debut album 'Last Smoke Before the Snowstorm' due out on July 4th, his stock is sure to rise even further before his Jersey appearance.
THE LOVELY EGGS
Meanwhile on the SoBe Stage, Sunday's line up gets its first confirmed acts in the shape of The Lovely Eggs and Dry The River. Based in Lancashire, duo The Lovely Eggs deal in twee, oddball indie rock; since forming in 2006 they have received radio support from DJs such as Steve Lamacq and Marc Riley, and the video for their latest single even featured a guest appearance from legendary northern comic John Shuttleworth. London-based Dry The River's infectious country folk has seen them categorised with British folk acts like Mumford & Sons and Laura Marling, and support slots with Plan B and The Magic Numbers were followed by their recent appearane at the Texas SXSW festival, described by NME as one of their 'highlights of the week'.
Only a small number of slots remain on the Jersey Live line up, and the final few acts will be announced very soon.