Givers announce first UK tour & debut single release
aaamusic | On 15, Jun 2011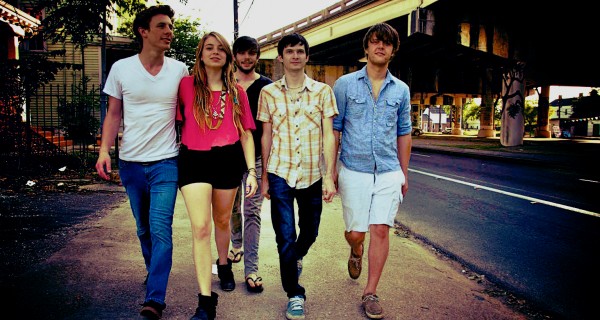 "It's like being tickled into submission by Wayne Coyne while Polyphonic Spree feed you sweets" – Guardian
'Up Up Up' is to be the debut release from the Deep South's ebullient purveyors of melody, rhythm and anomalous harmonies, Givers. 'Up Up Up', which comes from Givers debut album 'In Light', will be released on July 18th on Glassnote (Mumford & Sons, Phoenix, Kele, Two Door Cinema Club, The Temper Trap) in the US and Island Records in the UK. Receiving its world premiere on Radio 1 as Zane Lowe's Next Hype track, 'Up Up Up' is an irresistible calling card, bristling with ideas. Further support for 'Up Up Up' comes from Radio 2, 6 Music and XFM.
"The sound of the summer" – NME
Based in Lafayette, Louisiana, the quintet was formed by Taylor Guarisco (singer & guitarist) and Tiffany Lamson (singer, ukulele & percussionist), who met at the University of New Orleans. When Hurricane Katrina hit, it forced the two back to their home of Lafayette where they met Kirby Campbell (drums, programming & vocals), Nick Stevens (keyboards & flute) and Josh LeBlanc (bass guitar) and began to form the basis for Givers.
"Sound that is awash with pastoral loveliness" – The Fly
Givers have spent the last few months wowing audiences across America with their kinetic live show, "we really do play every show like it's one of our last ones," says Guarisco. After sold-out tours with Dirty Projectors, appearances on Late Night with Jimmy Fallon, Givers will be hitting the UK for their first shows in early July ahead of a UK Tour & Field Day festival appearance in August.
JULY UK DATES
Tuesday 5th July, London, White Heat @ Madam JoJos with Weekend
Thursday 7th July, London, Kingston @ Banquet Records with Grouplove
Friday 8th July, London, Eat Your Own Ears @ Shacklewell Arms
Givers are available for promo (interview/ session) opportunities around these London shows. If you'd be interested in speaking to the band just let me know and we'll slot it in their diary.