STONEFIELD London 29th and 30th June
aaamusic | On 15, Jun 2011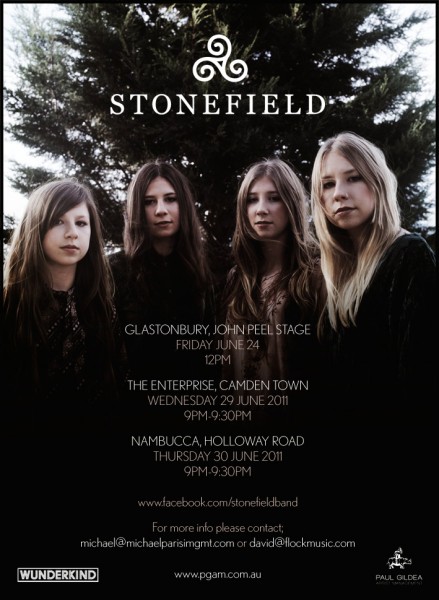 The four Findlay sisters have stepped out of their rehearsal shed in the Victorian hills with a sound that quite simply rocks! Zappa and Zeppelin inspired, 70s soulful rock 'n roll and stellar song writing are the reasons these four very talented girls have everyone sitting up and taking notice. Amy, the eldest is on drums and lead vocals. Hannah's on guitar, Sarah plays keys and backing vocals and Holly is the killer bass player/screamer. Stonefield may be a young band but these girls can play and their live show is blowing crowds away.
They've supported the likes of NERD, the Temper Trap. Cat Empire, Children Collide, and British India since forming the band in 2006, but 2010 has been their biggest year yet.
In 2010 they won triple j's Unearthed High competition, which led to two songs 'Through The Clover' and 'Foreign Lover' being played on high rotation on the j's. An invitation to play at One Movement in Perth saw the band play in front of thousands of industry folk and fans and has led to a spot on the 2011 Glastonbury and The Great Escape line ups.
Stonefield's debut release 'Through The Clover' is a five track EP on Flock/PIAS on June 20th.
The band is now doing a select run of shows around Australia including the St Kilda and Pushover Festivals, Adelaide Fringe in the Spiegeltent, a residency at the Tote with Dandy Warhols drummer Brent DeBoers, Immigrant Union, Apollo Bay and Cherry Rock Festivals, before they headline the Northcote Social Club on April 1.
2010 was a breakthrough year for Stonefield with a nomination for a J Award. However with recent airplay in the UK and US beginning and preparations for Glastonbury, John Peel Stage,  2011 looks even bigger.