Synesthesia#1 Release date July 25th 2011
aaamusic | On 16, Jun 2011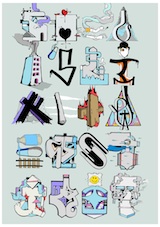 First of the birthday releases from Senseless, read more about the project below.
Support from: Oneman, Martelo, Doc Daneeka, Slackk, Om Unit, Murderbot, Akira Kiteshi, Cardopusher, Kanji Kinetic, Ikonika, Hackman, Optimum, Kid606+++
Oneman (Rinse/FWD)"Love the dub of Arctic"
Slackk (Numbers):'"ARCTIC DEVIL MIX IS FUCKING AMAZING'
Murderbot (Planet Mu): "The Venice Calypso Tunguska track is fucking PHENOMENAL"
A. Venice Calypso – DriftingThe first release ties together three tracks all at around 130BPM which look to the past while sounding like the future. Shades of classic electro, grime and rave in the oven and it smells good.
Futuristic electro bass blaster, as featured by Brenmar in The Fader. An incredible debut release from this London based Polish producer.
AA. Rossi B & Luca – Turbo Island
London grime legends (Planet Mu/ARMY/Havy Artillery) who have been producing certified grime hits for over a decade drop it down low to 130BPM for this energetic new school meets old school workout.
AAA The Phantom – Arctic (Devil Mix)
The Phantom follws last year's smash EP with his debut vinyl release pays tribute to Wiley's beatless Devil mixes from grime's golden age but updates it with cinematic tropical flair.
Digital Exclusives
The Phantom – Arctic (Vocal) The original with full beats and vocal samples.
Venice Calypso – Tunguska The perfect soundtrack to an electronic tribal ceremony.
Artwork by:
Song (olfacoception // smell)
Currently residing in Australia, UK born Graffiti artist Gloom has spent many years travelling the globe painting trains, walls and anything else that he can make his canvas. His vibrant, colourful style makes his graffiti stand out amongst the rest.
Celebrating five years of international bass exploration Senseless Records presents Synesthesia: a vivid spectrum of colours, shapes and textures drawn together into two pallets, one sonic and one visual to create five very special releases; a series of strictly ltd. Edition (of 250) 12″ records with hand screen printed sleeves and an art print insert created by an exciting collection of international visual artists, each offering their take on one of the five senses. Cutting edge bass on each release from Senseless artists, new discoveries and legendary producers who have inspired the label. Confirmed contributors include Poirier, Rossi B & Luca, Oris J, Stereotyp, Cardopusher, Pacheko, DJ Eastwood, Phantom and JTRP but we'll announce the full line up for each record only as each is released.
Summer 2011 marks five years of Senseless Records, five years since the soundsystem culture of Leeds, UK inspired Sarantis to press up his first white label grime EP. In that time we've searched the UK and far beyond for international heat reaching out from Warsaw to Caracas. We've released almost twenty EPs and two albums of technicolour bass music from an extended family of artists including vocalists like Max Romeo, Warrior Queen, Badness, Foreign Beggars and YT and producers like Jack Sparrow, Starkey, Ghosttown, Phantom, Kanji Kinetic, Brackles, MRK1, Pocz & Pacheko and many more.