ENTER SHIKARI UK tour announced plus live stream of Dingwalls show tonight
aaamusic | On 17, Jun 2011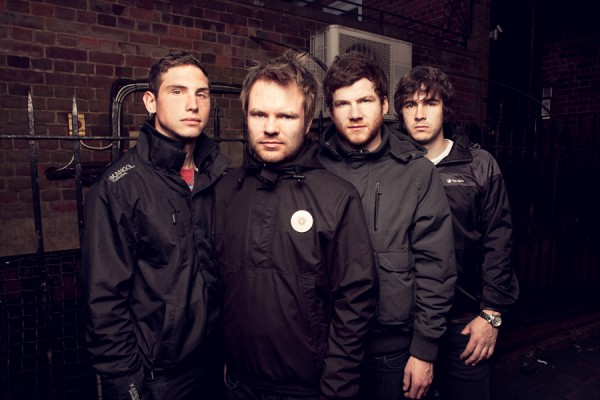 ENTER SHIKARI
+ YOUR DEMISE + letlive.
UK & IRELAND TOUR – AUTUMN 2011
www.entershikari.com
It has been nearly two years since Enter Shikari last undertook a full UK headline tour.
Sure, there's been the occasional burst of home turf activity… the most pronounced of which being either the four headline dates in February 2010 (which resulted in the Blackpool Empress Ballroom's roof falling in, and ended with the band's biggest headline show to date at London's 5,000 capacity Hammersmith Apollo), or the stint with 30 Seconds To Mars around the arenas and sheds in December 2010. But we're talking proper "get in the bus and go the length and breadth of the island, playing a full set and and being allowed use of the showers" type touring.
So it is with great pleasure that we get to announce a stint of sixteen shows for this coming Autumn, taking in some of the more 'intimate' UK venues the band has played in quite a while.
For this October's run of UK and Irish dates, the band have invited friends / fellow Hertfordshire hardcore outfit Your Demise, and explosive LA combo letlive. to join them, continuing the killer bill that will cross mainland Europe together throughout September.
To add an extra frisson of danger to the proceedings, and taking the cue from the good gentlemen of Mumford & Sons (credit where credit is due), the English / Welsh dates of this tour will be promoted directly by Enter Shikari / Ambush Reality, rather than via a national promoter such as LiveNation, SJM etc, a natural step on from the band's DIY stance of releasing recordings via Ambush Reality. Tickets will be initially available solely through www.entershikari.com via their arrangement with Music Glue.
Despite being away from UK touring thus far in 2011, the band have certainly not been resting on their laurels.
A short Texas tour, three weeks album recording in Thailand followed by two weeks in London, the release of a brand new single – 'Quelle Surprise' – back in May, best part of two months on Warped Tour in North America June / July, the release of a live CD & 2DVD set (entitled 'Live From Planet Earth' and released July 11th), main stage performances at the Reading / Leeds Festivals, and a brief tour of Russia… that is what Enter Shikari will have tucked under their belts before they start the real work for this year… what you been upto?
STOP PRESS! : By way of sprinkling a little extra fairy dust over this announcement, tonight's special London party show at Camden Dingwalls will (all being well, and the little technology elves on our side) be STREAMED LIVE via http://www.entershikari.com/dingstream/
Enter Shikari will be onstage and streaming live from 8:55pm!
OCTOBER
WED 05 NORWICH – UEA
THUR 06 OXFORD – 02 ACADEMY
FRI 07 MANCHESTER – RITZ
SAT 08 LIVERPOOL – 02 ACADEMY
MON 10 DUBLIN – ACADEMY
TUE 11 BELFAST – MANDELA HALL
THUR 13 GLASGOW – BARROWLANDS
FRI 14 NEWCASTLE – 02 ACADEMY
SAT 15 BIRMINGHAM – 02 ACADEMY
SUN 16 SHEFFIELD – 02 ACADEMY
TUE 18 BRISTOL – 02 ACADEMY
WED 19 LONDON – ELECTRIC BALLROOM
THUR 20 LONDON – ELECTRIC BALLROOM
SAT 22 PORTSMOUTH – PYRAMIDS
MON 24 CARDIFF – COAL EXCHANGE
TUE 25 NOTTINGHAM – ROCK CITY
AGE RESTRICTIONS FOR ALL SHOWS 14+
TICKETS ON SALE MIDDAY WEDNESDAY 22nd JUNE @ www.entershikari.com/shows