JAPANESE VOYEURS ALBUM DETAILS!
aaamusic | On 17, Jun 2011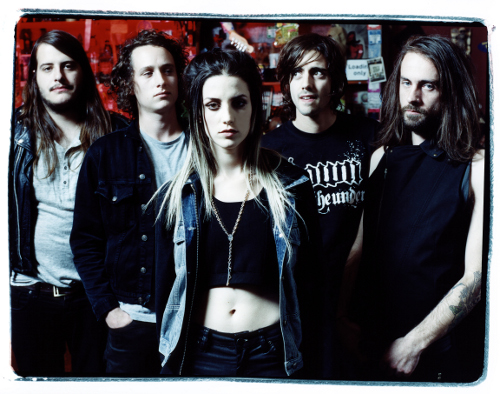 London's noisiest rockers Japanese Voyeurs finally announce the release of their eagerly anticipated filthy loud debut album'Yolk' on July 11th. Along with it comes their new single 'Cry Baby' on July 4th complete with a Kerrang-premiered smoking new video full of desert mist, tanks and guitar-smashing chaos.
Watch 'Cry Baby' here: http://www.youtube.com/watch?v=Lxl7VQSsFXI
Having already wowed a packed out tent at Download Festival this weekend, the band will make several other festival appearances this summer including Sonisphere, Pukkelpop and Bilbao BBK. They've also just been confirmed to play Shepherds Bush Empire on June 28th, supporting X Japan.
Quite possibly the darkest and heaviest band ever to be released on Fiction Records, Japanese Voyeurs' debut album 'Yolk' fuses massive riffs with unforgettable melodies and singer Romily Alice's distinctive sweet & sour vocals… not to mention guest vocals from the legendary J Mascis on track 'Feed'.
In equal parts beautiful and menacing, over a steady slew of singles and constant touring (recent shows including a Young Guns support and the last Rock Sound Exposure tour) Japanese Voyeurs have built up a loyal ever-growing fan base including Radio 1's Fearne Cotton, Zane Lowe and Daniel P. Carter. The Guardian called the band's live shows'An onslaught of noise and intense psychodrama to soundtrack the most vicious hair-flailing'.
'Yolk' was recorded with GGGarth Richardson (Rage Against The Machine/The Melvins/Jesus Lizard) in an isolated farmyard in the forests of Canada, and mixed by Alex Newport (Fudge Tunnel/At The Drive-In) in the sweat of the Brooklyn summer. Veering from the softest caresses to the most brutal of attacks, you can feel not only the dichotomy between the seclusion of the Canadian wilderness and the strip bars of inner city New York, but the raw emotion that makes the record such a visceral experience.
Japanese Voyeurs are Johnny Seymour (Bass), Rikki Waldron (Keys), Romily Alice (Guitar/Vocals) Steve Wilson (Drums) and Tom Lamb (Guitar).