The Ladybug Transistor new album out soon and video for Clutching Stems
aaamusic | On 17, Jun 2011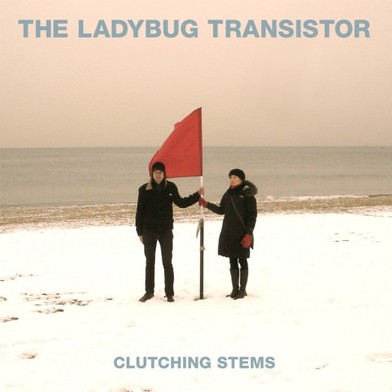 In anticipation for their forthcoming 7th full-length album to be released at the very end of July, Brooklyn's The Ladybug Transistor are delighted to entertain you with this rather fun and unusual video clip for the title and lead track from their new album Clutching Stems which is out on Fortuna POP! on 25 July (and out on Merge in the States a bit sooner).
The Ladybug Transistor – Clutching Stems from Merge Records on Vimeo.
"For 15 years, the name Ladybug Transistor on the front of an album has been like a trademark of quality, and anyone buying one would be assured of wonderfully rich and emotional pop songs, intricately layered production, and a general feeling of radiant joy that comes from experiencing music that's pure and true… It's rare for a band to keep getting better over time, especially after 15 years, but the Ladybug Transistor have done it, and whether you've been a fan the whole time or you are just discovering (or rediscovering) them with this album, there is enough good stuff here to make even the coldest-hearted music snob admit that there is music being made in 2011 that's just as good as anything made in 1965 or 1977, or any year." All Music Guide
Since the 1990s, the Ladybug Transistor has created formalist pop-rock albums with a dreamy, articulate sound that spans decades and genres. Anchored by Gary Olson's organizing vision and restrained baritone, their music boasts intricate arrangements and soaring melodies that are at once modern and timeless.
This band's narrative holds a rich history of heartfelt collaboration, tireless devotion, quiet and outspoken romance, new arrivals, unexpected departures, achy break-ups, and unspeakable loss. They have become agile at adjustment.
In 2007, the untimely passing of their beloved drummer San Fadyl left members Olson, Kyle Forester (also in Crystal Stilts), and Julia Rydholm at an unimaginable loss, struggling with a prevailing sense of "What now?" At a time where moving forward felt possibly impossible, the band quietly gathered new recruits – Mark Dzula, Eric Farber, Michael O'Neill (also in MEN with JD Samson) – and embarked on writing a new album with the memory of San squarely in mind.
The resulting effort is their forthcoming release Clutching Stems—a lush collection of potent refrains and brought-to-one's-knees ballads. Set to an invigorated soundtrack of wave-pop arrangements, the songs detail stories of humbling heartbreak, profound longing, undoing distress, nagging regret, and coming-of-age awakenings. Olson's lyrics express an overarching search to find one's voice in the face of moments that knock the wind and words right out of a person.
This new line-up has found a distinct voice that honors diverse influences and the band's own precedent sound. Clutching Stems assuredly underlines that while love can tear things apart, it can also capably mend them back together once again.
The Ladybug Transistor are:
Gary Olson – vocals
Kyle Forester – keyboards
Julia Rydholm – bass
Michael O'Neill – guitar
Eric Farber – drums
Mark Dzula – guitar