Relentless Energy Drink Boardmasters Festival announces 30 new acts! / 10-14th August / Newquay- Cornwall
aaamusic | On 18, Jun 2011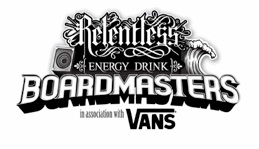 OVER 30 NEW ACTS ANNOUNCED!
SKINDRED // HYPER // CHARLIE SIMPSON
EASY STAR ALLSTARS // DUB THE EARTH
And many more…
10-14TH AUGUST 2011- FISTRAL BEACH & WATERGATE BAY – NEWQUAY
**NEW ACTS JUST ADDED**
FRIDAY 12th AUGUST
SKINDRED / SUBMENTAL / CHARLIE SIMPSON / PREMISE & PALM / MR NICE & MAXXI P / CATALYST & TREAZON / RE-DEFEAT & GRUDGE / SIQNOTE & DIGITYL / DEVINYL & LEROY / MC'S CRISIS & BENNY MC / JOHNNY G / RSB  JOHN SMITH / WINTER MOUNTAIN BAND / TOM ODELL
SATURDAY 13TH AUGUST
EASY STAR ALLSTARS / DUB THE EARTH / LORI CAMPBELL / HYPER / TOM COSTELLOE & TOMMIE QUICK / STUTTERING MUNX & STEVE LID  FREERANGE DJ'S  / CHARLIE G / SNATCH THE WAX / WILL BAILEY / DELUXX / ASHLEY T & GREG ZIZIGLUE / BLEEDING KNEES CLUB
www.relentlessboardmasters.com
The Relentless Energy Drink Boardmasters Festival is pleased to announce over 30 new acts joining the already bulging Newquay line up!
The festival is Europe's only surf, skate and music festival offering the ultimate in World Class surf and music all rolled into one. This year's festival is NO exception and features over six stages of the best live music, beach gigs and action sports spread over four days which makes it the MUST DO outside event of the summer.
Joining the already confirmed heavyweight acts such as Fat Boy Slim, Eliza Doolittle, Klaxons, Sub Focus (Live), Art Brut, Crazy P, Cloud Control and Bombay Bicycle Club are infamous energetic reggae-metallers, Skindred, famed for their intense and utterly entertaining live sets that fuse all the best elements of punk, rock, metal, reggae and electronic music together into an individual genre all of their own, it is a performance to miss at your peril!
Other new acts jumping onboard for the ride of the summer are Charlie Simpson who will be performing his highly anticipated new solo album 'Young Pilgrim', due for release the day after the festival! And the laid back summer sounds of the Easy Star Allstars, who have established themselves as one of the top international reggae acts since their live debut in 2003. The collective combine their musical versatility with instrumental prowess, beautiful vocal harmonies and a superb rhythm section perfect for the summer sunshine.
Added into this mix is DJ Hyper, a man who needs no introduction, having been an irreplaceable staple on the breaks scene with his unique genre defying sound for quite some time now, expect some hands in the air action Newquay!
Other acts just confirmed come from across the musical spectrum with the likes of Lori Campbell, Dub The Earth, Premise & Palm, Snatch The Wax, Catalyst  & Treazon and many many more all signing up for the best festival of summer…
For further information and up to date news visit www.relentlessboardmasters.com
Relentless Energy Drink Boardmasters in Association with Vans
Relentless Energy Drink Boardmasters is Europe's only surf, skate and music festival offering the ultimate in World Class surf and music. Set over two locations Boardmasters 2011 brings some exciting new additions.
As a celebration of 30 years of surfing at Fistral Beach the event has upgraded its Men's ASP surf event to a 6 star event which will bring the best up and coming surfers on the planet to the festival.
In a move to represent all aspects of surfing, Relentless Energy Drink Boardmasters will introduce longboarding – including a 3 Star Men's ASP event and 6 Star Ladies ASP event. With these new and upgraded events, Boardmasters will invest in its core surfing heritage and truly represent surfing as a whole.