Bostich & Fussible: Free download & Mexican wrestling shows this week
aaamusic | On 21, Jun 2011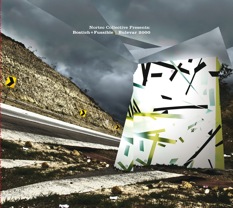 I Count The Ways (Latin Dub Soundsystem Remix) – Nortec Collective Presents Bostich & Fussible by Because Music
Bostich & Fussible, one half of Nortec Collective, Mexico's groundbreaking Tijuana-based genre-alchemists, are offering up a free download of 'I Count The Ways' remixed by the renowned UK producer / mixer The Sea as they gear up for this week's Lucha Future shows. Lucha Future is huge jaw-hanging riotous fun that you won't forget. Fifteen masked men including the legendary Blue Demon Jr, the exotic Cassandro and the fearless Magno, show that when we need heroes they will come, in a night of adrenalin fuelled Mexican wrestling.
'I Count The Ways' is taken from Bostich & Fussible's Grammy nominated release 'Bulevar 2000' released in the UK on the 25th July through Because Music. Mixing electronica with traditional Mexican music, the new album (their second as a duo) sees Bostich & Fussible combining old synths and drum machines with traditional Mexican instruments and contemporary electronic production to create a sonic snapshot of the their hometown.
Despite the escalated violence in Tijuana, Bostich & Fussible continues to be a positive and proud representation of their city. The group's commitment to the community is unwavering. "Tijuana is the city that helped us discover electronic music in the early 80s. At the beginning of Nortec it was what helped develop this project, Tijuana is the point of inspiration – its people, spaces, social problems and multiculturalism," Fussible says.
Bostich & Fussible recently performed in front of 25,000 fans in the streets of Tijuana, a landmark event for the band, that was held to celebrate 10 years of the Nortec Collective.
Lucha Future preview trailer:
Live dates w/ Lucha Future
24th – 26th June – The Roundhouse – London http://www.bluefishtest.co.uk/lucha/tour_dates.htm
28th June – Sage – Gateshead http://www.bluefishtest.co.uk/lucha/tour_dates.htm
1st – 2nd July – Dome – Brighton http://www.bluefishtest.co.uk/lucha/tour_dates.htm