We're No Heroes new EP 'Quiet Colours' out now
aaamusic | On 21, Jun 2011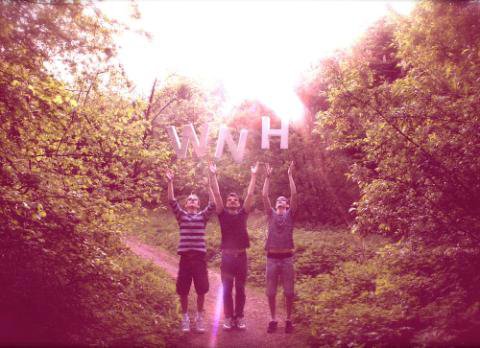 South Wales math-pop three piece We're No Heroes release their new EP 'Quiet Colours' on June 15th 2011, in association with At Your Own Risk Events.
Perfecting songs written over a six month period through live performances and rigorous jam sessions, WNHs hit Ripefruit Recordings studio in Cardiff with respected producer Jordan Andrews. The band set about condensing and refining their sound still further, whittling their initial eight demo tracks down to the four strongest songs in the set, piecing them together the finished results sounded more fluid, hanging together as a record, and the best thing the fledgling group have released thus far. 'Quiet Colours EP' features four tracks 'Atlantic Hearts', 'You're An Empty Beat', 'Tigers' & 'Latitude' and will be released digitally worldwide on the 15th of June, whilst simultaneously getting a limited physical release in the UK.
We're No Heroes note that 'each of their songs has its own personality and story, coming together to create one whole.' Some have pointed out that the title of their new EP 'Quiet Colours' is a reflection of the personality of each band member, their meek and geeky image offstage contrasted by their addictively tuneful, powerhouse live sound, each song reflecting a different aspect of the WNHs sonic assault on the senses.
The band formed transatlactically in the summer of 2009 when a practice in a downtown Chicago studio led the Welsh lads to lay down the basic concepts of the WNHs sound. It may have been the influence of the big city or big dreams but each member became ever more excited and focused upon creating something fun and original. The outcome, disco flecked math pop with insatiable four to the floor rhythms, precise guitar riffs and addictive vocal refrains that weave their way into your head and wont let go for days! On their return to the UK the band have progressed rapidly, moving to Cardiff and establishing themselves in the local scene, releasing their debut EP 'Crossing Over' in February 2010, attracting over 1500 online downloads.
Now, We're No Heroes release the follow up 'Quiet Colours' EP on the 15th of June.