Man Without Country announce free download track + video
aaamusic | On 23, Jun 2011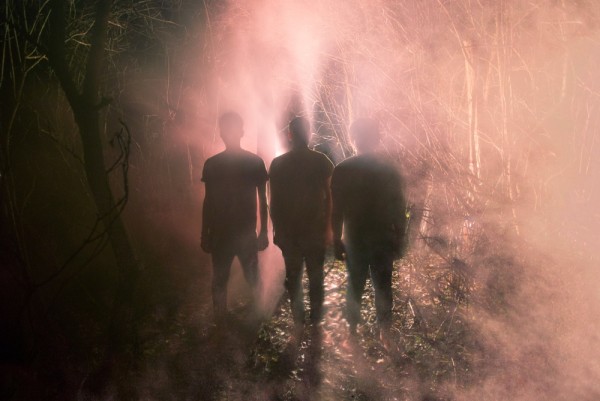 The name carries an instant intrigue. The band themselves, a South Wales based duo, say it derives from "a sense of not belonging."
This sense lies at the root of their atmospheric, sometimes uneasy sonic palette. Glacial guitar ripples spliced with an eerie synth pulse, yet with the ability to morph into an anthem when you least expect it.
Determined to work with fresh technology, rather than be in thrall to it, Man Without Country's ten-song debut album 'Foe' was produced entirely in Tomas's bedroom. "All the editing was done at home. Down to the last second, when it was sent to Ken Thomas, it was all on Ableton." Ken Thomas is the man responsible for mixing the album, and represents quite a coup for the band. In recent years he's been behind the desk for albums like Sigur Ros' 'Takk' and 'Saturdays = Youth' by M83, both important to the development of the MWC aesthetic, but his 1980s work with industrial pioneers like Psychic TV, 23 Skidoo and Clock DVA is relevant to the outcome too.
Inflammable Heart by Man Without Country
Foe, carrying a sense of unease and paranoia, is 45 minutes of music both complex and complete. Their aptitude for digital processing adds an edge to the flickering fuzz on the likes of 'Clipped Wings' and the title track, while 'Migrating Clay Pigeon' suggests a 2K11 reshaping of My Bloody Valentine. Joyous arpeggios lend 'Puppets' and 'Inflammable Heart' an anthemic quality that you can't help but think, would sound pretty astonishing booming out into an arena's rafters. 'Ebb & Flow' is hermetic beats'n'glitches, then a frothing dancefloor chorus, and back and forth – it's a time-honoured sonic tactic, but it's very effective.
Where often the music is calming, Ryan's lyrics are anything but. There are some dark sentiments expressed here. "Your last words / Will become more famous than you" ('Clipped Wings'); "You are a true parasite / And you're the bane of my life." ('King Complex'); "You have no faith and no backbone / God I hope you die alone" ('Iceberg'). "They are personal, and very bitter," the vocalist concurs.
The emotional intensity expressed in their songs is matched by the immersive throb of an MWC live show. It's loud, layered and low on lighting, shrouding the two in a fog of mystery – a theme that runs across all their visuals. It brings out their hazy shoegaze and beat – driven electronica in equal measure, their delay-drenched sound magnified magnificently. In all respects MWC are aiming for something higher than the norm and are succeeding.