The Violet May Release debut EP 'TV' on June 27th
aaamusic | On 23, Jun 2011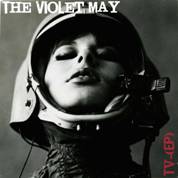 The Violet May are set to release their debut EP 'TV' on June 27th on Oh! Inverted World Records. The EP will be available in all formats. Preceding the release of the EP, the lead track 'TV' will be available digitally via I-tunes on May 23rd. The five-track EP was recorded with Alan Smyth (who has previously worked with Pulp, Arctic Monkeys, Long Blondes) at 2Fly Studios in Sheffield.
TVM have already caught the eyes and ears of tastemakers who have backed the band from the beginning, winning 6Music support from Steve Lamacq as "his new favourite band", BBC Radio 1's Rob Da Bank and Huw Stephens, as well as XFM's Eddy Temple Morris and John Kennedy. The release of their debut EP will undoubtedly have ears obliterated far and wide with their bold and defiant sound.
Guitarist John Kubicki and singer Chris McClure first bonded over a shared appreciation of Queens of the Stone Age, Masters of Reality and Screaming Trees amongst others, while discussing a mutual irritation with conveyor belt, paint-by-numbers indie bands.
"We'd lost faith in British guitar music," says Sheffield-born McClure. "There was twee indie band epidemic! We were all fed up and that brought us together."
Disillusionment created a powerful common ground between Kubicki, Jono How (guitar), Dan Booth (bass) and Alan Whittaker (drums, who played with Kubicki in a previous incarnation). But angst is only worth anything when the energy is transmuted into something with power, as in TVM's chest rumbling, distorted basslines, jackknife guitars and McClure's prowling vocal. From the seductive, gritty slink of 'TV', a lip disdainfully curled; to the swampy, fuzzed up riffery of 'Jennifer Lies'.
All of which is carried through to their live show, where The Violet May buzz with an unpredictable energy, swaggering through a haze of cigarette smoke; at one show, one impassioned move too many resulted in a mic stand shattering the ornate glass chandelier at one of Sheffield's top venues (they were banned).
"I like the chaos," says McClure. "I'm fed up with feeling comfortable at gigs. Sometimes you just want someone to be in your face."
It's no wonder then that the band pricked the ears of Alan McGee who tipped TVM as "One to Watch" in 2010 in The Guardian, subsequently inviting the boys to play a residency at his Notting Hill club night Death Disco. Meanwhile the marriage of anthemic melodicism with heavy brawling grooves on their debut single 'Bright or Better' sent ripples all the way to LA's Rodney Bingenheimer, aka "The Mayor Of Sunset Strip", a DJ on influential radio station KROQ.
The video, directed by Jesus and Mary Chain's Douglas Hart for zero pence, featured the band in the den of iniquity that is London's Stringfellow's Club. It was a move less about the strippers and more of a nod to Peter Stringfellow's past, booking everyone from The Beatles, Stevie Wonder and Hendrix to play his Sheffield venue The King Mojo Club. (Original posters for those gigs can be glimpsed in the background.)
If McClure's face looks chin-scratchingly familiar it's because you've seen him shaven-headed, squinting and dragging on a cigarette, starring down from billboards, buses and in record stores on the cover of the Arctic Monkeys seminal debut. Hailing from the same area as Alex Turner, McClure Jr guitar teched for the Monkeys on their early tours before giving it up to concentrate on university.
With many rock n roll stories tucked in their belts already and a catalogue of songs that bring forth the band's defiant spirit, be sure to keep your eyes peeled with what's to come from these Sheffield based stalwarts. Having recently returned from Germany touring with The Chapman Family and a sold-out Italy tour , the band have a busy year ahead with headline shows including KOKO and Proud Galleries as well as festival slots confirmed (Iceland Airwaves in October, Boardmasters in August).
Be sure to catch them tearing up a stage, near you.
LIVE DATES!!!
Friday 24th June – SHEFFIELD – Plug (supporting Kate Jackson)
Saturday, July 2nd – BIRMINGHAM – HMV Institute
Saturday, July 16th – MANCHESTER – Night & Day
Friday, July 22nd – SHEFFIELD – Tramlines
Saturday, July 23rd – SHEFFIELD – Tramlines
Friday, July 29th – LONDON – KOKO (Club NME)
Saturday, Aug 6th – STOKE – The Underground
Saturday, Aug 14th – NEWQUAY – Boardmasters Festival