ESL Signs AM & Shawn Lee for their cyberspace collaboration
aaamusic | On 27, Jun 2011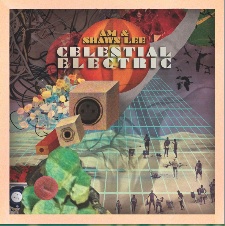 LOS ANGELES, June 27, 2011 – L.A.'s indie pop artist AM and London's
cinematic tune-smith Shawn Lee have signed a record deal with ESL
Music (www.eslmusic.com ) based in Washington DC to release their
debut album Celestial Electric. When Rob Garza of Thievery Corporation
heard the tracks, he elbowed out a handful of labels to release
Celestial Electric on his Eighteenth Street Lounge label. Says Garza,
"I've been a fan of Shawn Lee's music for quite some time and when I
heard what he and AM had put together I thought it would be an
exciting project for ESL. It's fresh, and infectious, combining
elements from many different genres. We're looking forward to putting
it out on our label."
AM & Shawn Lee's fortuitous cyberspace partnership began generating
advance buzz several months ago when they previewed their new songs
live at the SXSW Music and Media Conference in March 2011. The
following month, they celebrated Record Store Day by releasing a
limited-edition gold-vinyl 12-inch single on Ubiquity Records.
The SXSW showcase almost didn't happen. As AM and his keyboard player
Brett Bixby were flying into Austin to meet Shawn Lee who had flown in
from London, they got the news that Bixby's brother, Mark Bixby, had
been killed in a plane crash at the Long Beach airport. As they were
changing planes, they didn't know if they should turn around and go
back home or push forward and play the scheduled shows that had been
months in preparation. Visionworks Music's Mia Crowe who represents
the band recounts that after receiving the blessing of his family back
home, Brett said, "My brother always supported my journey in music and
he would want me to follow through with these shows." Despite the
shock of this devastating loss, the band flew on and performed through
a difficult few days at SXSW. The debut album Celestial Electric and
it's release on ESL is a great testament to the band's belief in this
music and their perseverance as artists.
The collaboration of the AM & Shawn Lee musical project started after
AM heard Lee's music on the radio KJazz in Los Angeles. After reaching
out to Lee, the two became quick friends, sharing a similar love for
vintage grooves and '60s and '70s soundtrack music. The pair decided
to record together after AM played guitar on a few of Lee's Ping Pong
Orchestra shows (including KCRW's "Morning Becomes Eclectic") in the
summer of 2010. Lee, armed with a four-track and other vintage tape
machines in his London studio, started sending AM drum and percussion
beats in December. In Los Angeles, AM wrote and recorded songs over
the grooves, adding guitars, Casio synths, vocals and occasional bass.
Lee added more instrumentation such as bass, keys, guitars,
glockenspiel and other assorted instruments and they emailed back and
forth until each was happy with the mix. They each documented their
process through photos, emails and videos and they will be posting a
series of "Building The Track" videos that document the behind the
scenes recording process in London and Los Angeles, as they get closer
to the release date for Celestial Electric on August 30.