X Factor's The Reason 4 sign to Sony ATV Publishing and announce debut single "Take It All" and album "Crying Out Loud"
aaamusic | On 28, Jun 2011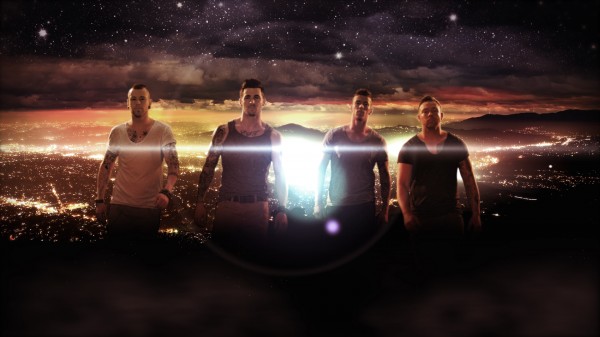 People say never judge on face value. To look at four builders, who would think that one of the World's biggest music publishers, Sony ATV would snap them up, or would be the first act signed to major new entertainment outfit, FarWest Music, part of the FarWest TV Group, under the stewardship of hit maker Eliot Kennedy (integral to a few acts you may have heard of, Spice Girls, Take That, 5ive).
But then The Reason 4 – Nathan, Scott, Glenn and Marc – aren't your average group. Unless you were living in a cave, you'll recognise them from the 2010 series of The X Factor. No they didn't win, but it put them on the map and has helped realise a 10-year ambition for the Southampton four –piece.
As much as reality shows derive the novelty, on paper four singing builders would have you reaching for the remote. But The Reason 4 captured the country's imagination. Not only do they have a legitimate harmony, but also their experiences, friendship and the fact that they are men not boys, make them authentic.
Says Rakesh Sanghvi, MD of Sony ATV Music Publishing – "The Reason4 are four talented guys, with the potential to go all the way. They have great voices, a honed pop sensibility and will appeal on a wide level. I'm delighted that they're working with proven hit-maker, Eliot Kennedy, on their debut."
Their history certainly is a long one; they've chased their dream before (in series 1 of X Factor), but with persistence and acknowledging that all good things are worth the wait, 2011 looks like the year that they will break out.
First single, Take It All, slated for an August 7th release, is a euphoric slice of grown up pop. Produced by pop maestro Eliot Kennedy, this feel good pop ditty is the perfect introduction to the classic song writing and harmonies that the Reason 4 are set to define.
Written by the band with Andrew Murray (Gary Barlow, Craig David, Cathy Dennis), who also co-produced the single with Eliot, the band have written or co-written every song on their debut album Crying Out Loud, slated for an autumn release.
Says Eliot Kennedy – "Once every decade or so there are these phenomenal artists that come along. I have been lucky enough to work with a few of them… this decade it's The Reason 4. Not since the Spice Girls have I felt this excited
about a new project. They are that good…"