Babe Shadow 'Days of Old' August 1st
aaamusic | On 30, Jun 2011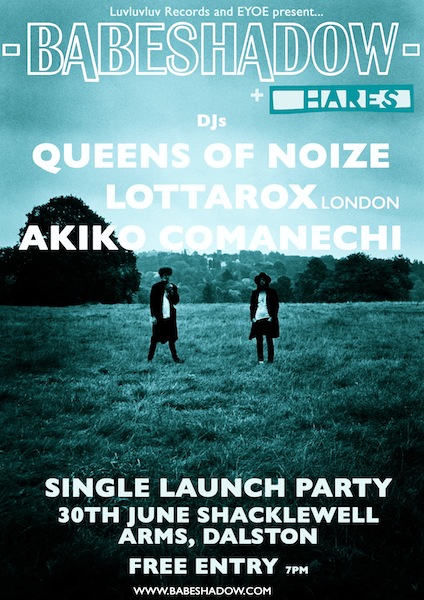 Tripping on a summer ray of good vibration moonshine, Babe Shadow are an Arcadian beat-combo for our time. They make a buoyant and lovelorn guitar-twanging kind of pop music, for hot nights and romancers and dancers. Their intentions are pure.
Tom and Dave Shadow co-write all the songs, an acoustic guitar each, in the time-honoured and good-old-fashioned way. Their influences are "fifties and sixties music with clean guitars." They say they particularly like "Marc Bolan" and some old band called "The Beatles." In a scene clogged up with shoegazers and twittering electronics, Babeshadow are happy pagan luddites. "When we started this band we vowed never to use synthesizers," declares Dave, "or guitar pedals or anything like that." There are no special effects at work here beyond cigarette smoke and mirrors.
In the ramshackle front-room studio in the flat on Shacklewell 'creative hub' Lane that they share (where their pals Jack Penate and Milo 'Big Pink' Cordell live a couple of doors down) Tom and Dave Shadow have honed their stripped-down, out-of-time, primitive jangly love-clatter into something a bit like Marc Bolan fronting The Modern Lovers while they play Anglophone folk songs in the style of a load of world music they're only vaguely aware of. They make love songs that are pop songs that are pure of heart and intention. What's not to like, you cynical lot?