Brandon Flower's collaborator Lindi Ortega releases debut single + live dates
aaamusic | On 03, Jul 2011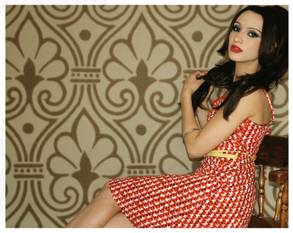 Presenting Lindi Ortega
Debut single 'Little Lie' out July 18th
Plus Solo Acoustic Show at 12BAR Club, London in July
Canadian singer-songwriter Lindi Ortega is set to release her debut single 'Little Lie' on July 18th 2011 on Last Gang Records. The debut UK album, 'Little Red Boots' will be released September 12th 2011.
Hand-picked by Brandon Flowers for her pitch perfect voice to join him on his tour as his lead back up vocalist, Lindi Ortega is now stepping foot forward into the limelight to showcase her distinctive blend of America and alt-country folk.
"What's a girl supposed to do, when the bitter truth turns into a sweeter lie?" intones Lindi Ortega, with more than just an impish twinkle in her eye. Still managing to retain an air of innocence despite this heartbreaking admission, Lindi Ortega's cherry pie vocals are seductively wanting – enough to send you wild with desire.
The diminutive singer-songwriter can really hit those high notes and has already been likened to Dolly Parton, Emmylou Harris and Johnny Cash. Written by Lindi Ortega and produced by Ron Lopata, 'Little Lie' is backed by the reverberating pluck of a double bass and the resounding shriek of an electric guitar.
Proving her impressive versatility, Lindi collaborated with Major Lazer on their 2010 EP 'Lazers Never Die', bringing her own touch to the visceral dancehall proceedings. Her 12-song album is out September 12th through Last Gang Records and features the talents of guitarist Kevin Breit (Norah Jones, Cassandra Wilson), bassist Dave Piltch (KD Lang, Louden Wainwright), drummer Davide Direnzo and keys from Ron Lopata.
Alt-country's newest sweetheart will imminently play a string of UK festival appearances as part of the Brandon Flowers band and will return to the UK in September for a solo tour.
Lindi Ortega plays the following dates with Brandon Flowers and her debut London solo show.
July
Fri 1st KENT, Hop Farm Festival
Sat 9th NASS, IRELAND, Oxegen Festival
Sun 10th KINROSS, SCOTLAND, T in the Park Festival
Mon 11th SOLO ACOUSTIC SHOW AT 12BAR CLUB, LONDON – 7pm
Tue 12th CORNWALL, Eden Project