EVANS THE DEATH Debut single "Threads" out 4 July + mini tour
aaamusic | On 03, Jul 2011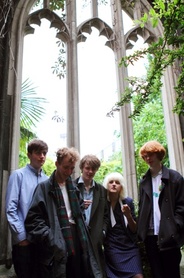 EVANS THE DEATH
Debut single "Threads" out 4 July
Following in the footsteps of The Pains Of Being Pure At Heart and Allo Darlin', Evans The Death will be releasing their debut album via Fortuna POP! this year, preceded by first single 'Threads' on 4 July.
Evans the Death make frenetic and infectious punk pop which exudes the kind of unbridled charisma, intelligence, and runaway energy that promises a singularly exciting future for the band. Comprising Dan Moss (guitar, vocals), Olly Moss (bass), Katherine Whitaker (vocals keys), Rob Mitson (drums), and Matt Gill (guitar), and named after the undertaker in Dylan Thomas's Under Milk Wood, Evans the Death are poised to fulfill their potential as one of the most refreshing and exhilarating new groups around.
A chance meeting between Dan and Katherine at a gig a couple of years ago led to the first incarnation of the band, but it was only after recruiting Dan's schoolfriends Matt and Rob, and younger brother Olly, that Evans the Death began playing the kind of shows that made both them and their audiences sit up and take notice. (A pivotal moment came during one of their first shows at Brixton's Windmill, where, as Dan remembers, "it was the only time we've ever played 'Crying Song', when Matt sobs hysterically over music that sounds a bit like 'In Dulci Jubilo' by Mike Oldfield. It was then that we decided to do it properly.") Having evidently spent a good proportion of their young lives attuned as much to the lyrical dexterity of Morrissey, Lawrence Felt, Edwyn Collins, and Jarvis Cocker, as to the scuzzed up melodic exuberance of early My Bloody Valentine, Pavement, The Pixies, and the I Am Kurious Oranj era of The Fall, the band effortlessly blend precocious musical literacy with the kind of unerring self-awareness which makes for a perfectly pitched pop sensibility.
Their imminent first release, latent-cold-war-paranoia love-song 'Threads', produced by Rory Bratwell (Test Icicles/RAT:ATT:AGG/Kasms), is as urgent, unsettling, and hook-laden a calling card as could be wished for. Referencing 1984's notoriously stark and uncompromising nuclear war docudrama of the same name, 'Threads' sardonically dismantles personal entanglements in the context of a new-found dread of nuclear apocalypse: "you put the fear of god into me/why did I watch that documentary?" A heady concoction of furiously catchy guitar work, anxiety-laced lyrics, and Katherine's vertiginously powerful vocals makes for an electrifying debut single from this new band.
Elegantly handled self-deprecation, mordant wit, and a willingness to embrace your own awkwardness go a long way when you have th sophisticated grasp on the things that make music exhilarating, nervy, and vital which Evans the Death manifestly do. With their compellingly unhinged and hyper-intelligent pop the band look set to blaze a trail through 2011 and beyond.
http://www.myspace.com/evansthedeath
http://www.facebook.com/pages/Evans-The-Death/120963414212
EVANS THE DEATH – MINI TOUR
Jul 02 The Croft, Bristol
Jul 03 Undertone, Cardiff
Jul 05 The Chameleon, Nottingham
Jul 06 Firebug, Leicester
Jul 07 Brixton Windmill, London