JAPANESE VOYEURS SINGLE 'CRY BABY' OUT TODAY!
aaamusic | On 05, Jul 2011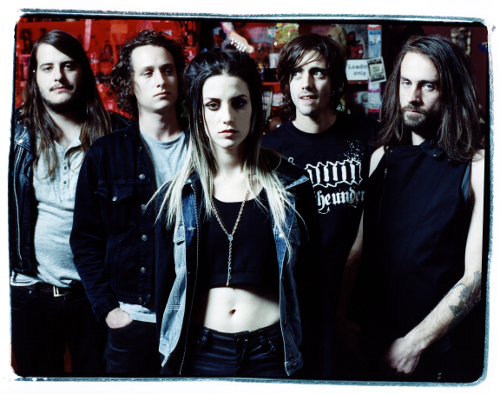 JAPANESE VOYEURS
SINGLE 'CRY BABY' OUT TODAY
FACEBOOK & TWITTER HIJACKED!
LABEL: FICTION
www.facebook.com/japanesevoyeurs- @japanesevoyeurs
Japanese Voyeurs release their new single 'Cry Baby' today! With it and ahead of their debut album release 'Yolk' next Monday July 11th, their social networks have been hijacked by a new character & cartoon strip, TAMAGO: CHILD OF DOOM.
TAMAGO (that's egg in Japanese) is, in fitting with much of Japanese Voyeurs artwork and indeed their album title, a baby… An obnoxious & opinionated baby with much to say about the music industry and the world we live in. A new comic strip will be uploaded on a weekly basis & fans will win prizes for engaging with and telling TAMAGO what to do.
Meet TAMAGO here: http://www.facebook.com/japanesevoyeursofficial?sk=app_208195102528120
And visit his blog here: http://tamagochildofdoom.blogspot.com/
Japanese Voyeurs play Sonisphere this weekend and an album launch show next week followed by a UK tour supporting Guns'n'Roses guitarist Slash on tour. Details below.
The video for 'Cry Baby', full of desert mist, tanks and guitar-smashing chaos can be seen here:
Quite possibly the darkest and heaviest band ever to be released on Fiction Records, Japanese Voyeurs' debut album 'Yolk' fuses massive riffs with unforgettable melodies and singer Romily Alice's distinctive sweet & sour vocals… not to mention guest vocals from the legendary J Mascis on track 'Feed'.
'Yolk' was recorded with GGGarth Richardson (Rage Against The Machine/The Melvins/Jesus Lizard) in an isolated farmyard in the forests of Canada, and mixed by Alex Newport (Fudge Tunnel/At The Drive-In) in the sweat of the Brooklyn summer. Veering from the softest caresses to the most brutal of attacks, you can feel not only the dichotomy between the seclusion of the Canadian wilderness and the strip bars of inner city New York, but the raw emotion that makes the record such a visceral experience.
See Japanese Voyeurs live at the following shows:
July 08 Sonisphere, Knebworth
July 09 Bilbao BBK, Spain
July 12 London Hoxton Bar & Kitchen (Album launch show!)
July 20 Birmingham Academy w/ SLASH
July 21 Manchester Apollo w/ SLASH
July 24 Stoke Victoria Hall w/ SLASH
July 25 Leeds Academy w/ SLASH
Japanese Voyeurs are Johnny Seymour (Bass), Rikki Waldron (Keys), Romily Alice (Guitar/Vocals) Steve Wilson (Drums) and Tom Lamb (Guitar).