Deep Cut New Album 'Disorientation' out 5th September 2011
aaamusic | On 06, Jul 2011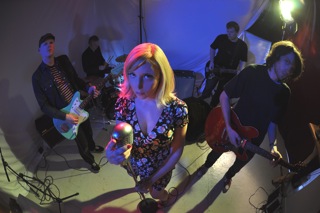 New Album 'Disorientation' out 5th September 2011
AC30 Records
Deep Cut's album 'Disorientation' will be preceded by single 'Something's Got To Give' on 8th August.
Listen here: http://soundcloud.com/charmfactory/05-somethings-got-to-give/s-Pm54c
Across the 12 tracks the ghosts of classic songwriters like The Byrds and Love collide with the noise sensibilities of The Jesus and Mary Chain and Sonic Youth with room remaining for the wildcard likes of Augustus Pablo, Husker Du, Neu, classic East Coast hip hop, late 60's American psych and floor shaking dub to make their presence felt. Trainspotters will be impressed to hear that 'Out Of Nothing' is built around a beat taken from (and credited to) cult NYC producer Godfather Don.
As with their debut 'My Thoughts Light Fires', Deep Cut produced 'Disorientation' within the band, recordings taking place in their rehearsal space with overdubs happening in Mat and Emma's front room. They also create all the visuals that will accompany the album with a little help from Mat's father, once a designer for the likes of Smash Hits and Zigzag magazine and perhaps the reason why the young Mat Flint became so obsessed with music. Mat said:
'This is all about being creative and making music that resonates with us and others rather than chasing some elusive notion of fame. It's about making music that we are proud of rather than something that fits into a scene.'
Deep Cut have announced shows:
Hoxton Bar & Grill – 2nd August w/ Ringo Deathstarr
Wilmington Arms, London – 11th August
Album Tracklisting:
1. Inner Star
2. Dead Inside Your Heart
3. Next Disaster
4. Magazine
5. Something's Got To Give
6. Decision Time
7. Makes Me Wanna
8. Cruel Reminder
9. About Face
10. The Letter
11. Out Of Nothing
12. Another Look In The Mirror
Deep Cut are: Mat Flint on guitars, his brother Simon Flint on bass, Emma Flint on vocals, Ian Button on drums with Pad Bailey completing the set on guitars.
www.facebook.com/deepcutband.