Jon Fratelli set to release special scottish album edition
aaamusic | On 06, Jul 2011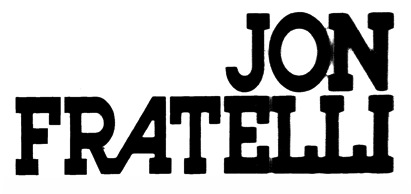 SPECIAL SCOTTISH EDITION OF DEBUT SOLO ALBUM "PSYCHO JUKEBOX" RELEASED ON JULY 25th '11
"An awesome debut that's every bit as catchy as his old band The Fratellis' hit Chelsea Dagger…Jon's already left his past happily behind him." NEWS OF THE WORLD 24.4.11
A special edition of Jon Fratelli's debut solo album Psycho Jukebox, which is released on July 25th, will be available in Scotland with the added bonus of five live tracks ('Daddy Won't Pay Your Bill', 'Tell Me Honey', 'Santo Domingo', 'Rhythm Doesn't Make You A Dancer' and 'Baby We're Refugees') , which were recorded at an incredible show at Terminal Studios in Glasgow earlier this year in front of an invited audience of fans and friends. Psycho Jukebox (Scottish Edition) with special artwork will be available exclusively from HMV stores in Scotland.
Psycho Jukebox was recorded in Los Angeles with producer Tony Hoffer (Beck , Air, Depeche Mode), who first worked with Jon in 2006 on The Fratellis' debut album, Costello Music, which spawned the rousing, witty hits 'Chelsea Dagger', 'Henrietta' and 'Flathead'. When touring for second Frats album Here We Stand ended in 2008, the band took a much-needed break, and Jon threw himself into Codeine Velvet Club with burlesque singer Lou Hickey.
Psycho Jukebox is brimful of melody, pop-psychedelia, classic '60s-tinged pop, and characters whose lives are lived in a twilight world of ambition and failure, triumph and loss.
"I wanted to give my Scottish fans something a bit special, and this show at Terminal went so well I wanted everyone to hear the best songs," says Fratelli.
"PSYCHO JUKEBOX" BY JON FRATELLI WILL BE RELEASED ON JULY 25th '11