ROBOTS IN DISGUISE new album 'HAPPINESS V SADNESS' released 11th July 2011
aaamusic | On 06, Jul 2011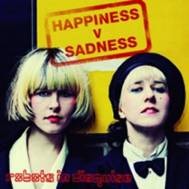 ROBOTS IN DISGUISE
New Album: HAPPINESS V SADNESS
Released: 11th July 2011
"Rather excellent electro-punks, specialising in cunningly interwoven call-and-response vocals that add extra hookiness to their hooks. Fun, fun, fun" – Sunday Times
"The missing link between Peaches, Le Tigre and Princess Superstar" Girls Aloud stripped of their gloss" – NME
ROBOTS IN DISGUISE are Dee Plume (guitar and vox) and Sue Denim (bass and vox) backed live by Ann Droid (drums and vox). Part riot grrl princesses, part monsters of DIY musical mayhem, this maverick electro-indie-rock-dance duo have made their fourth poptastic album with a little help from their fans, whose 'pledges' paid for its production.
Happiness V Sadness showcases RiD's continued growth as serious songwriters and their unrivalled ability to weave strong concepts into mouth-watering melodic hooks and irresistible dancey rhythms.
After touring their last album in the UK, Europe and Japan and supporting Gary Numan, Cyndi Lauper and The Gossip, RiD set up writing in their newly acquired studio space at The Brainyard – a haven of creative talent in the heart of Kings Cross, London.
Bridging the gap between the third and long-awaited fourth album was the stomping psychedelic pop-punk single, Wake-Up! which reached number 20 in the Independent Singles Breakers Chart. With the skill of friend and super producer David Alexander (Yo Majesty/Dominique), Wake Up! saw triumph and attracted ecstatic audiences nationwide during its promotional tour of Spring 2010.
With the budding success of this new music-making alliance, RiD once again called upon Mr Alexander's talents for the fourth album, along with producer, Tim Holmes (Death In Vegas). Together they have created ten superbly written tracks, sure to once again set pulses racing in discotheques all over Europe. The girls recently played a sold out show at CCP in Malaga, despite never having had a release in Spain. The word is once again spreading about RiD's astounding tunes and a vicarious stage show.
Title track Happiness V Sadness is RID ravin' up the dancefloor as they do best. "Don't Go" is their Blur-esque radio anthem in the making and "Chains" is the first single from the album – a return to the emotional form of underground classic "Turn It Up". Also don't miss their 2012 bid for alternative Olympic theme tune in "I'm A Winner".
They go back out on the road this summer in the UK, to celebrate the release of their new album and to thank their fans personally for making it all possible. Many of the "Pledgers" will be getting up onstage with RiD and some are even set to go on a bike ride with the band!