Ganglians free download & UK tour dates
aaamusic | On 07, Jul 2011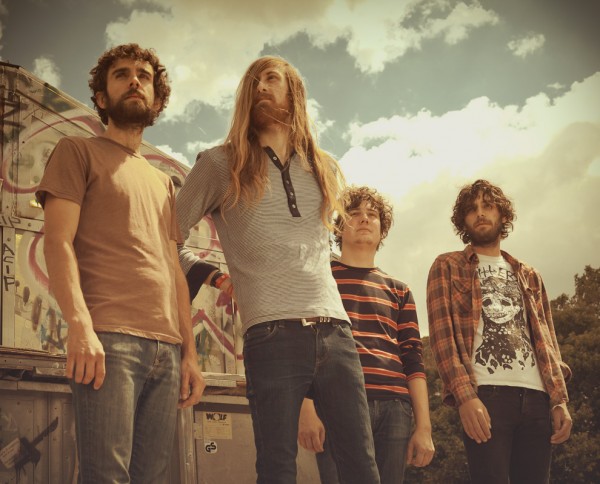 To accompany the release of their new album 'Still Living' on August 29th through Souterrain Transmissions, Ganglians have released a new track for free download and confirmed a full European tour for September and October.
 
The new track 'Sleep'
  Ganglians – Sleep by souterraintransmissions
Ganglians full European tour
Sep 17 Netherlands Tilburg Incubate Festival
Sep 18 UK Sunderland Split Festival
Sep 19 UK Manchester Night & Day Cafe
Sep 20 Germany Mannheim Mohawk
Sep 21 Germany Munich Atomic
Sep 22 Germany Berlin Festsaal
Sep 23 Germany Hamburg TBA
Sep 24 Netherlands Amsterdam Bitterzoet
Sep 25 Belgium Kontrijk De Kreun
Sep 26 UK Sheffield Harley
Sep 27 UK Glasgow Nice 'N Sleazy
Sep 29 UK London Corsica Studios
Sep 30 UK Brighton Prince Albert
Oct 01 France Paris Point Ephemere
Oct 03 Spain Madrid La Faena II
Oct 04 Spain Zaragoza La Lata De Bombillas
Oct 07 Italy Milan Plastic
Oct 08 Italy Bologna Covo
Oct 09 Italy Osimo Loop
Oct 11 Switzerland Lausanne Le Bourg
Oct 13 Austria Vienna Rhiz
Oct 14 Czech Republic Prague Final Club
Oct 17 Germany Dresden Ostpol
Oct 18 Denmark Copenhagen Loppen
Oct 19 Sweden Malmo Debaser
Oct 20 Sweden Stockholm Debaser
Oct 22 Sweden Gothenburg TBA
Oct 23 Norway Oslo Revolver
 
Before coming to Europe for a press trip and one off low-key acoustic set in London last month, Ganglians marked their return to the music scene by recently giving away new track 'Jungle' for free, which NME said sounded like "if Archie Bronson Outfit, Band of Horses & Fleet Foxes had some kind of spaced-out love-in, then the resultant children were fed a diet of '60s psychadelia & recorded their single in an echo-filled cave".
 
Still Living'rings in at just under an hour, staying true to the psychedelic roots established on their self-titled debut and immediate follow-up Monster Head Room (Woodsist/Souterrain Transmissions). They step it up a notch both stylistically and sonically, enlisting the help of producer Robby Moncrieff (who also played a crucial role in the shaping of The Dirty Projectors Bitte Orca) and taking the experimental blueprints of this album's predecessor and updating (and expanding) their designs. So, moods move from quiet introspection to boisterous merriment, chords stimulating the synapses while the toes can't keep from twitching.
Says Grubbs of the end results: "This is outsider music, but with a pop sensibility that brings everyone in."
"It's pretty honest music. Everyone feels a great range of emotions, like awkwardness and self-doubt, and not wanting to have to be cool to be cool. And that's what these songs are like."