Kitsune announce Kitsune Tabloid by The Twelves released September 5th
aaamusic | On 08, Jul 2011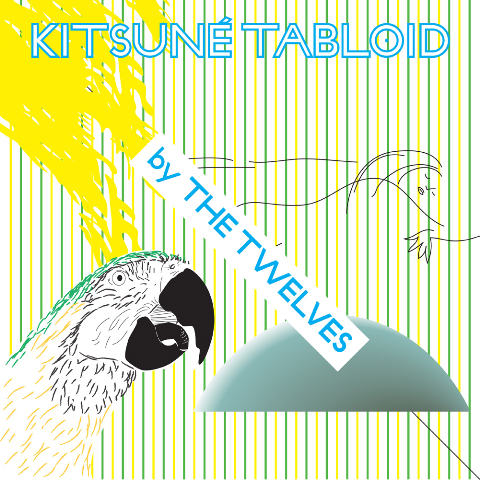 Hot on the heels of Phoenix and Digitalism who previously selected and mixed Kitsuné Tabloid compilations, Rio's finest deliver not one, but two mixes: the first gathers exclusive unreleased dubs of recent The Twelves remixes, the second offers a dj selection that compiles many of the duo's influences into one full-of-funk eclectic mix.
What do we know about The Twelves? There's only two of them, they're from Rio de Janeiro, Brazil, and they're bloody good at remixing. In the last few years their productions have invaded blogland and turned them into mega hot properties. They've reworked the songs of today's greatests: La Roux, Black Strobe, Daft Punk, Kylie, M.I.A., Yuksek, The Virgins, Black Kids, Groove Armada, Munk, Fever Ray, Metric, Two Door Cinema Club, A-Ha even, you name it…
So why The Twelves? Simply because João Miguel and Luciano Oliveira were both born on the same day: the 12th July 1980. How amazing is that? Not as amazing as their knack for producing colorful funky pieces that inevitably put a smile on your face. Percussion-led, packed with melodies, tight basslines, skippy keyboard sequences and nifty guitar licks, always effortlessly groovy… welcome to The Twelves' world. And it's precisely this universal – South meets North? – fondness for music that convinced the Parisian imprint to ask the pair to put together its own Kitsuné Tabloid compilation.
The first and terribly vibey mix is composed of unreleased dubs of some of their own remixes, with among others Black Strobe's revamped cult classic 'Me & Madonna', Munk's meaningful 'Violent Love', French Horn Rebellion's poptastic collaboration with DATABASE ('Beaches & Friends'), TDCC's indie dance piece 'Something Good Can work' and one only too rare original composition from The Twelves themselves ('Handshake'). Produced for the occasion, these radically new versions, often only using bits of the songs' acappellas, veer off in totally new directions than the remixes themselves. These re-rubs seamlessly blended into each other eventually end up becoming one rich soundtrack to abandon yourself in, the sum of all its components, rather than a collection of songs.
In the second mix, they cover as many bases as they can, the palette of inspiration in The Twelves camp being as wide as Kitsuné's. Miguel and Oliveira appreciate a variety of sounds and styles of which the constant always is the F.U.N.K. It's in Braxe & Falke's classy French touch 'Palladium' and DFA's post-punk bands (The Juan Maclean, Shit Robot), in Ratatat's abstract beats & licks, in Daniel Wang's lo-fi aural ecstacy, in Zongamin and Siriusmo's deranged wonkiness… It's not all jams though, you'll find songs too here. The blue eyed soul of The Paradise ('In Love with You'), the Teutonic cold pop of Sasse ft Kiki ('Losing Touch'), the feel-good guitar pop of Twin Shadow ('Shooting Holes) as well as snapshots from the past courtesy of Chaz Jenkel ('Without You') and Alexander Robotnik ('Problemes d'Amour demo' edited by Fafa Monteco).
The Twelves have a rare ear for melody and sure got the funk, but what is the funk actually? 'Funk is a feeling. It's that tingle you get when you play something and can't help but move your body' they say. Yes, after nu-disco, retro house and the rest… funk is the comeback story of 2011 and what could be better than a double mix that favours all these influences in a sunny and festive brazilian atmosphere.
MEET THE TWELVES:
What is life like in Brazil?
'It's great. It's home. We love traveling and playing shows, but it is always nice to touch down in Rio.'
Could The Twelves have come from another country than Brazil?
'Probably yes… we see people doing similar things to us every now and then. We obviously draw a lot of influence from the music we grew up listening to and I think that comes across in the music we make today. So in that respect, I suppose that The Twelves had to come from Brazil to capture that Brazilian vibe.'
Would you consider going to live in another place? And where?
'We thought about it, maybe moving to London or Paris to be closer to the 'action' so to speak. But for the moment we are happy in Rio.'
What's your favorite city in the world?
'Most of the major cities are as you'd expect them to be: fun and exciting – just like London, New York, Paris etc. It's hard to pick a favourite one because when we visit it's usually for a day or so and we don't get to see much outside the airport, hotel and the club we are playing at. We do like to spend time in London though, so it could be the one.'
What are the clubs like in Brazil? Do you dj much there? Is it very different deejaying in Brazil and in Europe?
'We have started to play more shows in Brazil now, which is great. In the past we spent so much time in the studio or on tour elsewhere that we didn't really get a chance to play at home. The club vibe is very different to America or Europe – it's more of a social affair, whereas in Europe it is a harder party atmosphere. Both situations are great, you just have to be prepared.'
What did it mean to you being asked to do a Kitsuné Tabloid mix?
'It was fantastic. Kitsuné is one of those labels that almost everyone knows and loves, so it was a great honor to be asked to do a compilation. We hope we brought a genuine Twelves feel to it, whilst still being true to the label ethos. There have been so many great releases and the fact that it's still going strong says to me that the label's well grounded and a force to be reckoned with. We love Kitsuné!'
What did you want to achieve with these mixes?
'We really wanted to give an idea of what a Twelves show is like, but at the same time we made sure it was a CD for all occasions rather than a record you turn up loud when you get ready to go out. Of course you can do that too, but we really wanted you to feel like it could be listened to on an iPod, at work, at home or in the car. We also made sure that this project – the tracks we selected and their arrangements – represented us properly.'

KITSUNE TABLOID BY THE TWELVES
A Side:
The Twelves – Handshake (dub)
Munk – Violent Love (The Twelves Tabloid dub)
Zeigeist – Humanitarianism (The Twelves Tabloid mix)
Metric – Help I'm Alive (The Twelves Tabloid mix)
Two Door Cinema Club – Something Good Can Work (The Twelves Tabloid dub)
Black Strobe – Me & Madonna (The Twelves Tabloid mix)
French Horn Rebellion vs Database – Beaches & Friends (The Twelves Tabloid mix)
B Side :
Ratatat – Wildcat

Reverso 68 – Piece Together (Part 1)
10.  Sasse feat Kiki – Loosing Touch
11.  Chaz Jankel – Without You
12.  Spirit Catcher – Rollercoaster
13.  Siriusmo – Last Dear
14.  Shit Robot – Take 'Em Up
15.  Pol Rax – For You
16.  The Paradise – In Love With You
17.  The Juan Maclean – The Simple Life