Q & FYFE DANGERFIELD ATTEMPT TO SET WORLD RECORD!
aaamusic | On 08, Jul 2011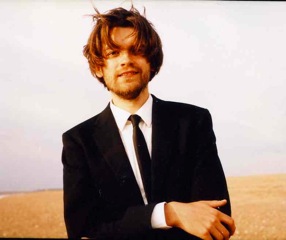 Q magazine and acclaimed songwriter Fyfe Dangerfield will attempt to set a world record together on Tuesday, 5 July – for putting together the song with the most contributors and in the shortest space of time. The attempt will be made in aid of the charity War Child.
From 9am on Monday, 4 July, Q will ask its readers and listeners, musicians, celebrities and music fans across the world to begin submitting lyrical suggestions, sound samples, musical ideas and sound effects for a song titled 'Superinjunction' via Twitter, Facebook and other media.
At 2pm on 4 July, Guillemots frontman and multi-instrumentalist Fyfe Dangerfield – who has released three acclaimed albums with his band, the latest of which is this year's 'Walk The River', and whose debut solo album 'Fly Yellow Moon' was certified Gold in the UK – will begin the process of distilling all of the material submitted into a finished song.
Fyfe will have 24 hours to compile, arrange and record the finished song – using as many of the submitted ideas as humanly possible and collaborating with other artists when he can.
The finished version of 'Superinjunction' will be aired exclusively on Q Radio almost as soon as it is completed on Tuesday, 5 July and will be made available for download on iTunes (TBC) – with all proceeds going to War Child.
Q will appeal to its audience for design entries for the finished artwork for the download track – with Fyfe Dangerfield handpicking the winner.
Fyfe Dangerfield says: "Monday and Tuesday are going to involve a lot of coffee. Q just asked me about this last Thursday and I love things like this that come together really quickly. I can't wait. It shouldn't work, but it will."
Q Editor In Chief Paul Rees says: "At Q we have long cherished the notion of allowing people to discover great music through all that we do – so the notion of having the Q audience actually become directly involved in its creation seems an entirely logical one.
"Obviously it would take a special sort of musician to rise to a challenge of this sort – and we had no doubt Fyfe Dangerfield would take it. We're delighted that he did and equally so that we can benefit War Child's outstanding work as a result."
Ben Knowles of War Child says: "We're delighted Q and Fyfe are coming together for this amazing project to help War Child – for a record-breaking 24 hours and supported by Q's audience everywhere.
"War Child believes music can be a powerful force for good– both raising money and awareness for our work as a tool to directly help and change the lives of children in the world's harshest war zones."
You will be able to follow Q and Fyfe Dangerfield's record breaking attempt at www.qthemusic.com, through Q's Twitter feed @QMagazine and on Q Radio.