Marina Celeste – The Angel Pop
aaamusic | On 10, Jul 2011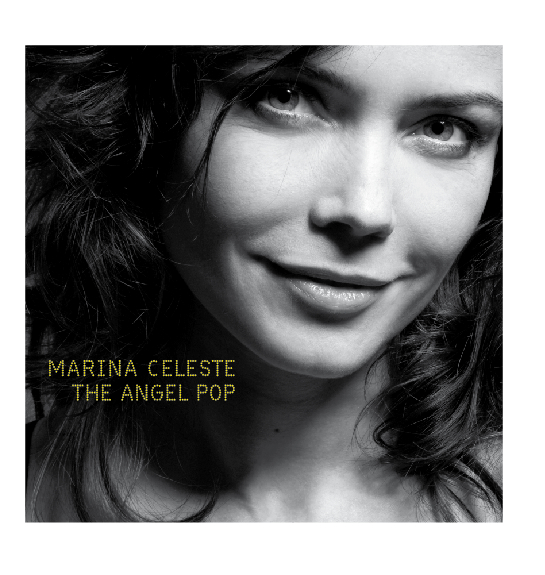 Ethereal, dreamlike, and both bewildering and bewilderingly appealing, Marina Celeste's hour-long release 'The Angel Pop' somehow manages to feel awkward, yet spread enough gossamer dazzle to charm listeners.
'Beds Are Burning' is doubtless going to turn a few off. It opens with a clattering ambience before the acoustic guitar caresses the ears of the listener beneath Celeste's breathy, almost little-girl vocals that bring to mind early Bjork. This builds into a subtly electronic instrumentation that lilts alongside a beautiful duet between Marina Celeste's soft and delicate vocals and another more solid male voice. The chorus is pure pop with a conscience and a breathtakingly pure approach that suffers none of the bells and whistles most pop artists rely upon. Just a simple refrain and a lullaby-cushion melody done by clear, appealing voices. 'Accroc Aux Bimbos' is a cheeky little Latin-style acoustic guitar number, with Celeste's voice seeming to come from a far-away dreamland as the strummed guitars are so warm and close there may well be someone sitting in your lap playing it, with a seductive little wink that belies the breathy naïvity of the artist's surface. 'La Femme Chat' has a slick electro kick, a strange blend of R&B/hip-hop and acoustic pop that adds kinky heels to the proceedings, as Celeste's voice no longer sighs but purrs, her presence lifting what would otherwise be a rather uncomfortable mixing of styles. 'Two Loves' has an equal stumble, hinting it could be Terry Hall's collaborations that don't quite gel, although the latter is by far better in its low-end grind backing slick high-pitched crooning. The electro is much better managed on 'The Soldier', a nearly techno track that has a beautifully space-age ambience with just enough roughness to compliment the silken butterfly vocals. Whistling and twinkling bell sounds weave around a heavier club beat, yet Celeste keeps this track well and truly in the heavens as opposed to the dancefloor.
Marina Celeste has a spectral, delicate tone of tracks like the slow, almost ominous 'Le Charme Du Diable', a heavily ambient track that brings together layers of whispered vocals, choral backing, and a strange, almost oriental melodicism made menacing by the slow, deliberate guitar work and uncannily organic percussion. Cool, jazz-influenced bass underpins trembling, evocative melody and ghostly wind instruments. 'The Lovers' has a much softer, sepia-toned acoustic foreground, with Celeste's voice achingly beautiful in its fragile tunefulness.
Elsewhere, we have Kate Bush style pop, like 'Love Is The First Born', with its fast-paced, bright sparkle that is eminently catchy, even pulling off the slightly off-kilter synth work. Slick and guiltily appealing, as is the mischievously titled 'Watching You Sleep Naked', which has a quirky sexuality that is pitched somewhere between Lolita and lioness – Celeste's bouncy pop has a fresh-faced glamour (the brass section and folk-tinged melodies blend with a hop-skip guitar pop in a bright, youthful fashion) yet she knows when to be vulnerable and when to take it all in a stiletto stride, sexy but never sleazy. 'Too Much' revisits the purr with electro charm, as synthesised handclaps and electro piano don't add formulaic happiness but instead a smirking playfulness to possibly the most ethereal show of vamping you could want: cool and collected yet the lyrics and the instrumental parts both play out a creeping, intelligent manipulative edge despite the veneer of vulnerability.
Finally, 'DADADA' is a beautiful, fairytale pop song, with pillowy keyboards, a nursery rhyme refrain bolstered into a pop hook, and a beautifully cheerful guitar part to go with Celeste's best singing, at once both honey-sweet and delicate as the finest French lace.
'The Angel Pop' is, in many ways, a glimmering diamond in the rough. Marina Celeste's voice – while an acquired taste in its fairylike, sighing allure – is definitely a taste that if acquired is rarely less than sublime. The music, however, can be patchy and unsettled: both the electro and the acoustic can and do shine, but at other times come across as clumsy or poorly executed. The Terry Hall stuff especially is take-it-or-leave-it, but 'The Soldier' and 'Le Charme De Diable' are outstanding songs that deserve a listen. With sixteen songs on offer, chances are you won't like 100% of it, but that you will find one that will worm into your heart.
Author: Katie H-Halinski