Baddies Announce One-Off 'Double Album' Show
aaamusic | On 11, Jul 2011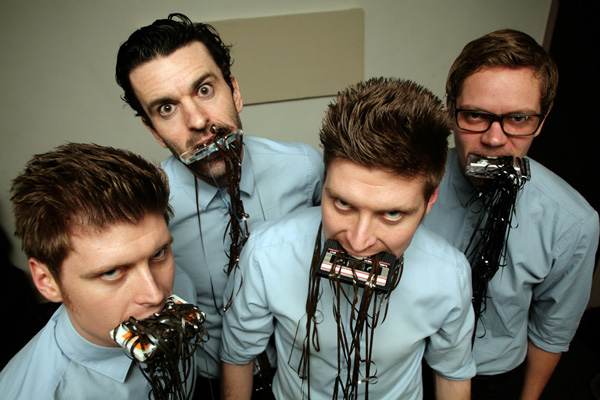 Baddies Announce One-Off 'Double Album' Show
Band to play their debut & forthcoming new album in full
NME – "Catch them before they explode"
Clash Magazine – "Undoubtedly one of the best live bands currently operating in the UK"
Rocksound – "Bursting with mischief, mayhem and shout-out-loud choruses. You'd be mad to miss it"
Q Magazine – "Queens Of The Stone Age riffs and punchy, staccato melodies"
Music Week – "Switching between twisted pop sensibilities that scream Talking Heads and a bass driven heft that takes more than a little from Queens Of The Stone Age"
BBC – "Like Franz Ferdinand coming out of prison and losing faith in humanity"
The Times – "like the Beastie Boys have challenged the Pixies to a sing off while Klaxons woo woo the fight along from the sidelines. And they're all loving it"
Baddies have announced a one-off London show at the Buffalo Bar on September 22nd which will see them play both their debut album 'Do The Job' and its as-yet untitled and unrecorded follow-up in full.
Tickets to the show are only available via Pledge Music and will be priced at £15. For that price you get access to the show, plus a digital download of the new album upon its release.
'Do The Job' was released at the end of 2009 to much critical acclaim. The band relentlessly toured the album worldwide, with 37 festivals played in the summer of 2009 (a record number for any band that year). Next they headed out on a 7 week / 18 country headline tour throughout Europe, followed by a 2 week headline tour of Japan, and finally ending the year with an Australian tour, culminating in a huge new years eve show in Sydney.
The follow up to 'Do The Job' will be recorded at Rockfield Studios with producer Sean Genockey (Manic Street Preachers, Futureheads, Reuben, To The Bones). It will be released via fan-funded music label Pledge Music; the band have already raised 99% of their target amount with another 3 weeks of pledging to go.
Weblink | listentobaddies.co.uk