Evaline – Woven Material
aaamusic | On 17, Jul 2011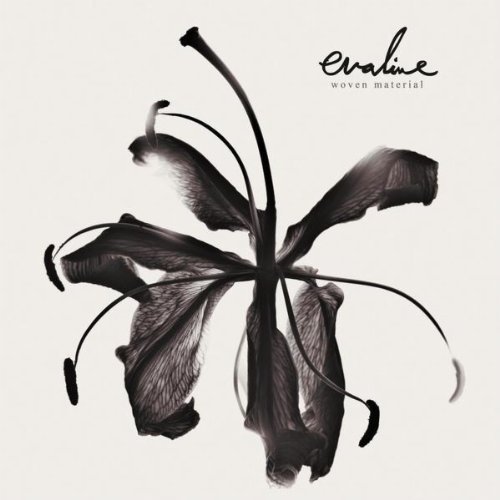 How can you make such a dreamlike stadium affair? I'm not sure, but rock outfit Evaline's new album: 'Woven Material' seems to be pitched between the arena and the ether, blending an artistic studied fragility a la The Smiths with a glossy veneer and sturdy core.
Opener 'Beneath The Fire' brings us right to the brunt of the matter, a stuttering, effects-drenched guitar leading us via a gentle riff into a tumbling, brittle art rock for the masses style of song. The guitar owes a debt to Johnny Marr that is so heavy it's been given to a cut-off-your-toes collection agency, but elsewhere we can hear the gloomy fingerprints of the slower bleak indie of modern bands such as The National and White Lies in its treble-drenched, slow burn and poetic lyrics. Building with subtly frenetic passion into a sweaty rock-out, my only wish is that it would have come a bit sooner: an opening track needs to go for the jugular to really succeed. Similarly, the creeping slowness of 'Who Are You' clearly aims for evocative eeriness and emotion, but the pacing is just a little too slow to allow passion to bleed into the track – at least in a studio context it can't quite achieve liftoff until the climactic bridge, which is a little too late despite one hell of a mesmeric riff.
'There There' chases up the atmosphere with a shot of nearly funky vigour, a dirty blues strut present behind the veil of heady alt rock, with a chant-along chorus and distorted growling guitars backed by skittering percussion and throbbing bass. Throw in the delicious sonic anarchy of 'Ascend', and we suddenly have something venomously catchy and snotty that has slick charm to catch the casual listener and draw them into a surreal world of hazy, distortion-drenched sound and sneering vocals. Bile and electro rock spark with life here, although the poppier elements fall a bit flat, as the song wavers from exciting to trite and back again with frustrating frequency. 'Rapture' duplicates the formula with a deathly ominous syrup that echoes My Chemical Romance at their 'Three Cheers' era zenith, as does 'Overwhelming Shapes' with its spiteful delivery and seething undercurrent of anger beneath the polished surface.
I don't know if it's the goth in me, but 'Equally' is something rather special in its slow burn intensity, a swaying piece of noir glam in its heady chorus and tumultuously unfurling sonic density. Shimmering guitar and incongruously swaying rhythm section blur the lines between the serious and the stylish with aplomb, and the hissing echoes dogging the anguished vocals startle with an addictive quality.
As noted, the pop is probably what really hampers the otherwise-promising Evaline. The radio "indie" rock inflection of 'Picking It Up' with yelping vocals playing out a tiring chorus, and simplistic melodies is hooky and appealing in its own right, but feels lightweight in the face of the band's clear ability to transcend such tracks. 'Hours' handles it a little better in the lighters/phone aloft balladry of many a long-sighted band with a poetic ear and earnest heart, but the melody feels overdone and the anthemic nature of the track once again sits uncomfortably with the artsiness of other songs on the album.
To close, after the superfluous 'No Time To Breathe', 'All In My Mind' offers muted navel-gazing in a cod-acoustic mood, with warm bass and hints of strings around a wailing bluesy guitar and anthemic drumkits. It doesn't quite deliver, but there's something appealing to hold the listener to its drawn out conclusion, especially as it descends into swirling, shimmering dark squalls.
It's not quite 'Woven Material' so much as patchwork, with a jarring contrast between MCR and The Cure, but as a less theatrical gateway between modern alt rock and the art student wonderland of post-punk, Evaline are doing rather well and could be a real treat, if they could reconcile stadium attitudes with their more esoteric touch.
Author: Katie H-Halinski