Belfast's Lafaro confirm UK September/October tour
aaamusic | On 21, Jul 2011
Belfast's Lafaro confirm September & October UK tour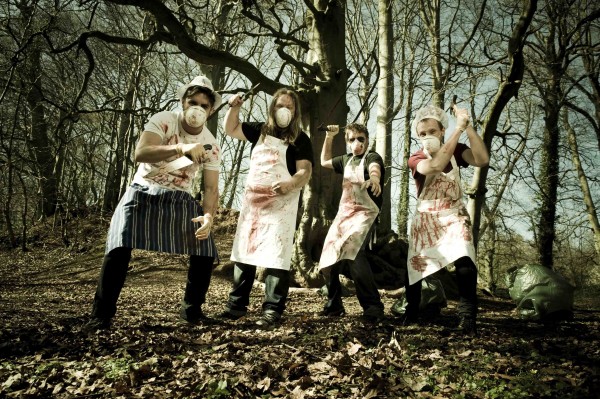 Polar opposite to the delicate poise of the influential jazz bassist Scott LaFaro from which this Belfast quartet takes their name, LaFaro are a wrecking ball of a band. Their rhythmic post-hardcore is designed to pulverize dance floors and leave no bottle of beer undrunk – this is music distilled to its fundamental elements – 'We hark back to time when rock music was still fun' states lead rabble-rouser Johnny Black ominously.
Recalling The Jesus Lizard, Shellac, Helmet (with whom the band have toured Europe) and NI heroes Therapy? LaFaro have character, chops and emotion oozing through every seedy riff 'I love to write about life's dark little secrets – the things we all know happen but never get discussed'.
The band's second single from their upcoming album "Easy Meat entitled "Meat Wagon" will be released on Monday 12th September on 7" & Digital Download to co-inside with their upcoming headline tour:


Saturday 24th September – Tunnels – Aberdeen CLUB NIGHT
Monday 26th September – Stereo, Glasgow [TICKETS]
Tuesday 27th September – Sneaky Petes, Edinburgh [TICKETS]
Wednesday 28th September – Shipping Forecast, Liverpool [TICKETS]
Thursday 29th September – The Well, Leeds [TICKETS]
Friday 30th September – FAC:251, Manchester [TICKETS]
Saturday 1st October – Live Lounge, Blackburn FREE ENTRY
Sunday 2nd October – Corporation, Sheffield [TICKETS]
Monday 3rd October – Boileroom, Guilford [TICKETS]
Tuesday 4th October – Portland Arms, Cambridge [TICKETS]
Wednesday 5th October [TICKETS]
Thursday 6th October – Joiners, Sounthampton [TICKETS]
Friday 7th October – Forum, Tunbridge Wells [TICKETS]
Saturday 8th October – Buffalo, Cardiff [TICKETS]
Sunday 9th October – Moles, Bath [TICKETS]
Monday 10th October – Stereo, York [TICKETS]
Tuesday 11th October – The Rainbow, Birmingham [TICKETS]
Quotes:

"Sounds like a compilation of all the best bits from your old favorite bands squeezed into glistening, lubed up fist of metallic punk muscle" – Kerrang!
"Shot through with the intelligent humor of their countrymen… rock 'n' roll rarely sounds this sexy, fun and heartfelt" – Big Cheese
"…a short sharp shock of heavy, abrasive grunge rock carved from big dumb riffs, savage caveman drumming and the rantings of an evil old pervert" – Irish News
"Blistering riffs that bounce about the skull like the best of the post-grunge punk fraternity." – BBC
"Rocks with a ferocious, frenetic spirit few bands could rival" – Rocksound