Butcher Boy new single 'Imperial' + video!
aaamusic | On 22, Jul 2011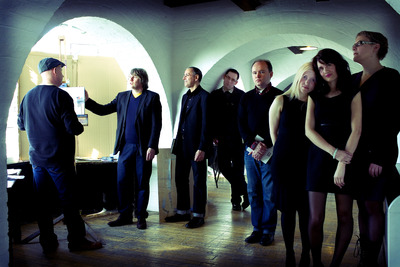 BUTCHER BOY
HELPING HANDS
Damaged Goods – 29 August 2011
Short video for title track "Helping Hands"

New Damaged Goods signings Butcher Boy release their third album Helping Hands, with this single "Imperial" out a week before on 7" (a limited edition of 500 copies) and digital. The Glasgow-based 7-piece have produced yet another momentous album, weaving rich storytelling and exquisite arrangements, allowing the strength of their songwriting to shine through.
Creating poetic, delightful indie-pop tinged folk, Helping Hands leans towards well crafted melodies and allows the music to convey the emotion rather than simply relying on John Blain Hunt's tenderly delivered off-kilter poetry. Drawing inspiration from their native Glasgow, the album follows the previous two records Profit in Your Poetry and React or Die as the completion of a trilogy of sorts. Where the first two focused on childhood and growing up, Helping Hands is more about moving out and moving onwards. Using a lush mélange of strings, guitars and piano arrangements, they have also incorporated electronica on this record, with Moog synthesizers lacing the cello on "Whistle And I'll Come To You" and a classic Roland CR-78 drum machine introducing "Imperial".
Beginning in its current form in 2005, Butcher Boy released Profit in Your Poetry in 2007 to a flurry of press activity, including a First Sight Feature in The Guardian and a 4/5 review in Uncut. Second release React Or Die (2009) made even more of an impact, The Times' Peter Paphides intimating that the album was as important as any of those released by The Smiths or Belle and Sebastian in his 5/5 review. The album also received a 5/5 review from The Sunday Telegraph and scores of 9/10 from Drowned in Sound and 8/10 in the NME. The amount of critical acclaim garnered for their first two albums were surely heralding in a significant band for our time – but no-one was more shocked than the band themselves when React Or Die was voted one of The Times' top 100 albums of the 2000s.
So how then, did a band declared one of the best in Britain, end up without a label? They had completed Helping Hands by late 2010 and suddenly found themselves without anyone to put it out. Their previous label How Does It Feel To Be Loved had moved away from releasing records to focus on club nights and events, so the band had to shop the record around. In a stroke of luck, they were picked up by the iconic Damaged Goods label (home to Billy Childish, Holly Golightly, Piney Gir).
Butcher Boy are making their second appearance in three years at the very lovely IndieTracks festival near Derby and are about to announce a few more gigs around the country in the near future.
Current Line-Up:
Alison Eales – piano and keys
Fraser Ford – bass guitar, acoustic guitar
John Blain Hunt – singing, rhythm guitar
Findlay Mackinnon – drums and percussion
Basil Pieroni – lead guitar
Maya Burman-Roy – cello
Robert Spark – bass guitar, electric guitar
On this record were also joined by:-
Helena Flint – viola
David Ridland – flute
Cat Robertson – violin