Shoot The Dead single and show
aaamusic | On 23, Jul 2011
Shoot the Dead
1. Don't Stop Dancing
2. Inhuman
OUT NOW
www.shootthedead.co.uk
www.recoverworld.com
Friday 19th August @ Clapham Grand, 21-25 St. John's Hill, London, SW11 1TT £8 door 8.30pm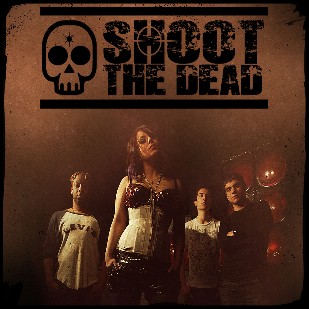 In little more than 12 short months, Shoot the Dead have risen from conception through to one of Brighton's most exciting new band prospects.
Rising up organically through impromptu gigs in Brighton's thriving free party scene, four piece band Shoot the Dead create the kind of dance infused rock music that delivers both style and substance.

With their unique combination of frenetic rhythms, driving bass, searing guitar riffs and Andi's phenomenal vocals, they have produced a collection of hook laden tunes, citing collective primary influences as diverse as the Beatles through to the Prodigy and Hendrix through to Orbital.

The band takes their name from a line borrowed from horror maestro George Romero.
"There's all these zombies coming out, covered in blood and someone shouts "shoot the dead" explains the band, who have equally embraced with relish their initials STD, referring to their fans as simply "carriers".

Ironically, with all this talk of zombies, Shoot the Dead are very much a live band delivering mesmerizing performances set against a backdrop of thought provoking visuals and eclectic songs that range from the sleazy title defying "Lullaby" through to the more aggressive and hi octane tunes such as "Inhuman" and "Kill Machine Kill".

2011 has already been an exciting year for the band having seen off literally hundreds of other bands in the Jar Music national battle of the bands competition winning through to the grand final at the O2 in London and finishing a more than creditable 2nd place, they were asked to headline at Primal Scream's official London end of tour after party playing to suitably impressed packed house.
More recently they have sold out venues in Birmingham, Bournemouth and of course Brighton with a national tour to follow imminently.
And finally, the icing on the cake is the pending release of their debut single "Don't Stop Dancing" in June which comes with a superb video from award winning director Shane Ward.
www.youtube.com/shootthedeadband
The single comes packaged with a "live" version of gig favourite "Inhuman" which was recorded in one take at the Don't Stop Dancing studio session.
Coming soon to a venue near you, this is one STD you need to catch!!!
www.shootthedead.co.uk