KREAYSHAWN…Introducing 'Gucci Gucci'…
aaamusic | On 25, Jul 2011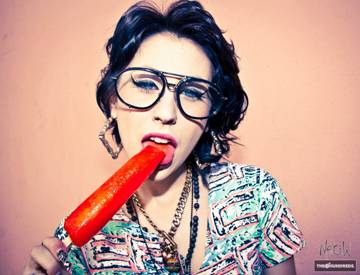 KREAYSHAWN
Columbia Records latest signing clocks up over 4 Million views of the video for 'Gucci Gucci' , her debut single out September 2011
East Oakland native, Kreayshawn (Kray-Shawn) has officially signed to Columbia Records. The 21 year-old will release 'Gucci Gucci' in September, exact date to be announced shortly, her debut album will follow later this year.
Kreayshawn released the video for "Gucci Gucci" in May and it became an instant viral hit, garnering over 200,000 views within the first 48 hours and over 2 million views just two weeks later. Within days of its premiere on The FADER.com, the song gained support from radio stations nationwide, along with MTV and a whole host of publications from LA Weekly, The Guardian to Dazed & Confused. Over cat meows, a deep warbling dubstep bassline and eerie, whistling synths, Kreayshawn advocates individualism in lieu of brand name obsession. With a hook so catchy that even disbelievers hate themselves for loving it, Kreayshawn declares, "Gucci Gucci, Louis Louis, Fendi Fendi, Prada / the basic bitches wear that shit so I don't even bother." The video features her wearing glittery, oversized pink mouse ears as a headband and rapping in front of designer boutiques on Rodeo Drive in Beverly Hills with fellow White Girl Mob member, stylist and DJ L1L D3BB13.
Kreayshawn first made a name for herself directing videos for fellow Bay Area native Lil B, DB The General, and Soulja Boy. She recently directed a video for Red Hot Chili Peppers new single 'The Adventures of Rain Dance Maggie' .
Described by GQ Magazine as a "loveable oddball," Kreayshawn says of the new partnership, "I'm excited to work with my new Columbia family. They understand my vision and are going to let me continue everything I've been doing. My hope is to inspire others to be young, wild, and free."