House Of Suarez presents Death By Glitter Vogue Ball
aaamusic | On 27, Jul 2011
ALL THAT GLITTERS IS NOT GOLD… IT'S VOGUE
HOUSE OF SUAREZ RETURNS WITH THE DEATH BY GLITTER VOGUE BALL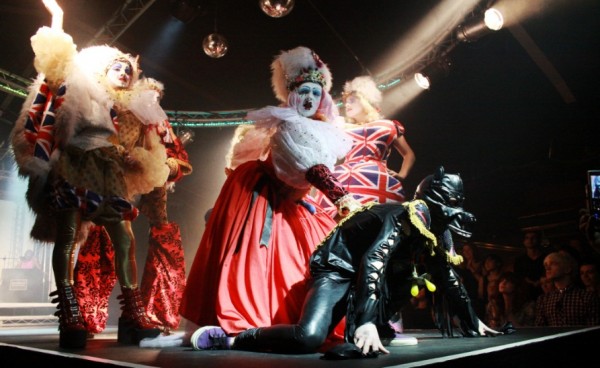 Following the massive success of the Justice Vogue Ball in 2010, Renowned Dance Company House of Suarez return with the 'Death By Glitter Vogue Ball', which will stomp into the Black-E, Great George St, Liverpool on Saturday 1 October.
For one night only club culture meets high art in a dazzling battle for supremacy on the Runway. If you thought Harry Potter and Lord Voldermort had the ultimate fight to the death, you were wrong. This is the fiercest fight that you'll see in 2011 and it'll be the most magical one of them all.
Hosted by the one and only Rikki Beadle Blair (Actor, Director, musician and Gay Rights Ambassador), the Death by Glitter Vogue Ball promises a feast to the eyes and the senses, glitter is the one thing on this menu, so get ready to splurge.
Filled with seriously sexy human specimens, bizarre creatures, lady-boys and everything else in-between when the Vogue Ball rocks up to put the bass back in your walk in what promises to be Liverpool's most glittering event of 2011.
A dance form popular in the 1970s and 80s, Vogueing began in the New York gay scene as a non-aggressive battle between two feuding individuals or group (houses) who chose to use dance instead of violence to settle differences. Vogueing often imitated the perfect lines and flexibility of model poses seen in fashion magazine such as Vogue, from which the dance got its name. No touching was allowed during vogue challenges, even though dancers would often become intertwined in each other's extended arms, legs and hand moves. The Voguer with the best dance moves was declared the winner of the battle. There were different styles of the vogue, including pantomimes or moves imitating the challenger.
The Death By Glitter Vogue Ball will showcase this stunning form of dance, which is now synonymous with Madonna's massive 1990s hit 'Vogue'. Several Vogueing Houses from across the country will compete to win cash prizes and dance supremacy in front of a distinguished panel of Judges.  This year's categories include Bizare, Solos, Boy/Femme Realness, Club Freak, Erotica and Choreography in addition to the battle for Best House. This title is given to the House that shows full involvement and embraces most of the categories, if not all of them.
The evening will begin with a dazzling performance from Artistic Director of House of Suarez, Darren Suarez who will create his sparkle-tastic new dance piece Death by Glitter with the other members of the House of Suarez. Following this, the competition will get underway.
Those in attendance are asked to grab their glitterfied Basques, masks and panty hose to come dressed and ready to sparkle. This is the one event of the year were boys and girls can dress as outrageously and be flamboyant as they dare! Take inspiration from the glitter and ensure that your attire will dazzle the crowd, make sure you aren't outshone on the Runway.
Darren Suarez, Artistic Director of House of Suarez said 'We want to see people from all walks of life and every scene taking part at the Vogue Ball. We want to see you dressed to impress in your glitziest outfit and ready to party. We want to create an environment that the local LGB&T Community is proud of and feel that they can express themselves at in a similar way that they can at a Pride event. It's going to be an incredible evening and there are dozens of Divas already rehearsing to make sure that they put on a stunning show. You're going to need sunglasses to cope with all of the sparkle. It's definitely going to be a night to remember'
For a short video introduction to Darren Suarez, Vogueing and the Vogue Ball, check out http://www.youtube.com/watch?v=0vBWQGY2cU4
The Death by Glitter Vogue Ball will be bigger, better, camper and more glittering than anything which has gone before. Prepare to tear up the runway in the most glitter-tastic event of 2011.
Don't just stand there let's get to it strike a pose there's nothing to it…
VOGUE
PERFORMANCE DETAILS
The "Runway" Death by Glitter Vogue Ball
The Black –E, Great George St (nr China Town), Liverpool
Saturday 1st October 2010,
Doors Open at 7.30pm,
Tickets: £15*
How to Book: Go online to www.houseofsuarez.co.uk or book in person at:
(In person bookings are subject to a fee)
THIS IS STRICTLY AN OVER 18s EVENT ONLY