OK Go – Video Premiere – All Is Not Lost – HTML5 "Google Chrome Experiment"
aaamusic | On 30, Jul 2011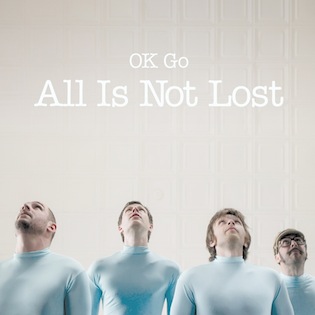 OK Go and modern dance company Pilobolus team up with Google to create an interactive HTML5 "Google Chrome Experiment"
Or watch the interactive version with Google Chrome at: http://www.allisnotlo.st

All Is Not Lost, the latest video from the GRAMMY®-winning rock band OK Go, premiere's today on the band's YouTube channel – http://www.youtube.com/user/OkGo
OK Go teamed up with director Trish Sie (sister of lead singer Damian Kulash), the modern dance troupe Pilobolus and a team from Google to create the latest HTML5 Chrome Experiment and musical experience. The project showcases the latest in modern browser technology, using 12 separate windows to create a kaleidoscopic dance that is partially choreographed by the viewer. At the beginning of the experience, users are invited to type a message in English, Japanese, or any language using the Roman or Katakana alphabets, and the message is incorporated into the dance.
The collaboration marks another milestone in OK Go's ongoing challenge to the existing state of creativity and the music industry. Says singer Damian Kulash, "Working with Pilobolus – and of course with Trish – has been great because they share our belief that last century's creative boundaries are irrelevant. These days, a great creative idea is a great creative idea, period. You don't have to choose in advance whether your outlet is records, or films, or dances, or a computer program. Videos don't have to be subordinate advertising material for albums, and dance doesn't have to be confined to the theater. We were like peas in a pod with Pilobolus, trying to make something that lives in the world of dance, and music video, and digital space, but isn't confined to any of those spaces alone."
"We've been talking for a long time about making a dance for small screens," says Itamar Kubovy, Executive Director of Pilobolus. "There is no one on earth we'd rather do this with than OK Go and Trish Sie – it's an inspired three-way marriage."
The pre-order for the video, which will be released on 9th August, launches today at http://www.okgo.net. A 3D version of All Is Not Lost is also available beginning today, exclusively on the Nintendo 3DS™ system, Nintendo's newest hand-held system which lets users experience 3D games, take 3D pictures and watch 3D videos without the need for special glasses.
On 9th August, OK Go will release the All Is Not Lost EP. Available worldwide through iTunes and from http://okgo.net, it will feature the album track, a live version, and remixes by Keys N Krates and Serious Business, along with an HD, non-interactive version of the video.
All Is Not Lost is the latest in an inventive series of videos based on songs from OK Go's latest studio album, Of the Blue Colour of the Sky, which was produced by Dave Fridmann (The Flaming Lips, MGMT) and debuted in the Top 40 of The Billboard 200. The band recently released 180/365 – a reference to the number of shows OK Go played in 2010 – a 15-track live collection recorded during their 2010 fall tour and produced and mixed by Dave Fridmann.
About OK Go
OK Go – Damian Kulash, Tim Nordwind, Dan Konopka and Andy Ross – has been called the most downloaded band ever, with over 200 million streams on YouTube alone. They've won numerous honors, including a GRAMMY® for "Here It Goes Again" (a.k.a. "the treadmill video"), a 2010 Webby "Special Achievement Award recognizing the band as "Film & Video Artist of the Year" and wo UK Music Video Awards for This Too Shall Pass (Rube Goldberg Machine) version)." The latter, which featured a Rube Goldberg machine created by OK Go and Syyn Labs engineers, is the #1 Top Rated (All Time) music video on YouTube. In 2010, OK Go founded their own record label, Paracadute.
About Pilobolus
Pilobolus is a modern dance company, 40-years in the making, that started thinking outside the box before it was cool and has since pushed that box into shapes never before imagined. Now a lab for unpredictable, imaginative creations, Pilobolus undertakes collaborations with a diverse roster of artists, including Maurice Sendak, Art Spiegelman, and the MIT Distributed Robotics Laboratory. Pilobolus performs live for 120,000 people around the globe every year, and reaches millions more on television and online. The company's series of performances during the 79th annual Academy Awards broadcast reached 1 billion viewers worldwide. www.pilobolus.org
About Trish Sie
With a background in modern dance, ballet, ballroom dancesport, and music, Los Angeles-based director Trish Sie conceptualizes, creates, choreographs and directs projects for film, television and internet. She collaborated with OK Go to conceive and produce several of OK Go's music videos, including "Here It Goes Again" ("the treadmill video") and "White Knuckles" ("the dog video").