Dead and Divine – Antimacy
aaamusic | On 01, Aug 2011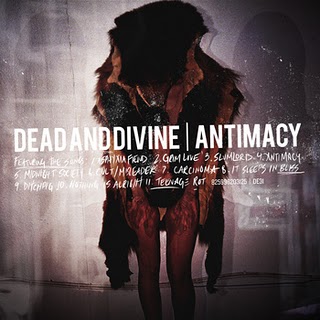 Dead and Divine are a five piece hardcore metal band from Canada who will release new album Antimacy on August 2. This album absolutely explodes from the get go- a warning to anyone wearing headphones and listening to this album for the first time- the band themselves have described it as an "aural assault"!
What follows on for 11 tracks is unapologetic, brutal, angsty hardcore metal. The album is certainly consistent- Dead and Divine have discovered the way that they deliver their songs and based on their loyal fan base they are doing it right.
Lead singer Matt Tobin has an impressive set of pipes- he goes from almost falsetto like phrases into harsh screaming with ease. It is his voice and the lyrics of these songs that carry the album from start to finish.
The lyrical content and the subject of these songs varies greatly-Dead and Divine touch on everything from relationships, personal struggles and humanity. However the melodies and the music remains more or less the same throughout- loud, aggressive, with lots of stopping and starting and after a few songs I am longing for some variety, or dare I say it-  something a little less hardcore?
Author: Orna Lyons