Crystal Fighters release deluxe edition of debut album, plus new single
aaamusic | On 08, Aug 2011
CRYSTAL FIGHTERS
Band to release 'Star Of Love' (Deluxe Edition)
8th August 2011 – Zirkulo Records/PIAS
New single 'Plage' 8th August 2011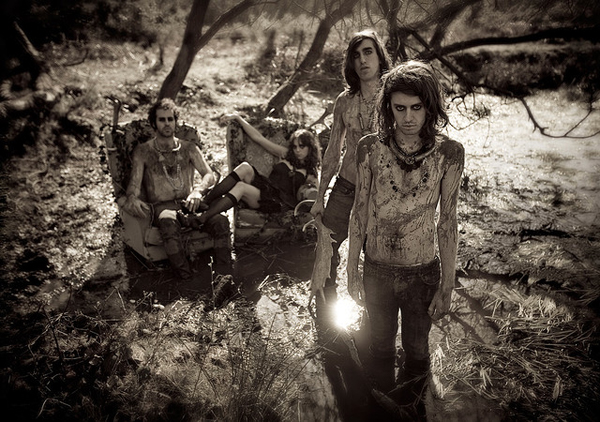 "a glorious carnival of organic whimsy and electronic euphoria."
Independent On Sunday
"an irresistible whirlwind of unhinged joy…….infectiously, chaotically, totally brilliant."
NME
'One of the most adventurous albums of last year'
Big Issue
4/5 Q
4/5 Mojo
4/5 Mixmag
NEW LIVE VIDEO OF 'PLAGE': http://www.youtube.com/watch?v=cDrzHBD9l1M
Crystal Fighters release the Deluxe Edition of their much lauded debut album 'Star Of Love' on 8th August. This will contain gorgeous acoustic versions of five original tracks – 'Follow', 'Xtatic Truth', 'Champion Sound', 'Plage' and 'At Home' – as well as a a brilliant cover of the cult Spanish song 'Fiesta De Los Maniquins' by the feted synth pop group Golpes Bajos. 'Star Of Love' is inspired by the band member Laure's Basque grandfathers musings, the post Franco Spanish pop from the '70's and '80's and traditional Basque folk songs.
The momentum around this band shows no sign of letting up as they embark on a summer of festival appearances – a staggering 27 in total, which only underlines their ever growing reputation as one of the most exciting live acts around. The range is testament to the breadth of the band's appeal – from Benicassim, Exit and Melt through to the Montreaux Jazz Festival and the Moseley Folk Festival.
In the UK they will be performing at Glastonbury, Latitude, Underage, The Big Chill, Reading & Leeds, Bestival, Wireless and the Moseley Folk Festival. The Independent On Sunday recently included them as one of six hot new acts who are a total must see on this year's festival circuit.
Crystal Fighters' last single 'At Home' was playlisted at Radio 1 following their previous three Record Of The Weeks on Radio 1. Having performed live on Later with Jools Holland they went on to feature on the Channel 4 shows Abbey Road Debuts and 4Play. Their last show at Heaven completely sold out and they will now play three headline shows in September, including Shepherds Bush Empire. Their next single, 'Plage', will be released on 8th August.
August:
26/08 – Reading Festival
27/08 – Leeds Festival
September:
02/09 – Mosely Folk Festival
09/09 – Bestival
14/09 – Shepherds Bush Empire, London*
15/09 – Manchester University, Manchester*
16/09 – Stereo, Glasgow*
*Headline Show