Daniela Brooker @ The Cuckoo Club
aaamusic | On 08, Aug 2011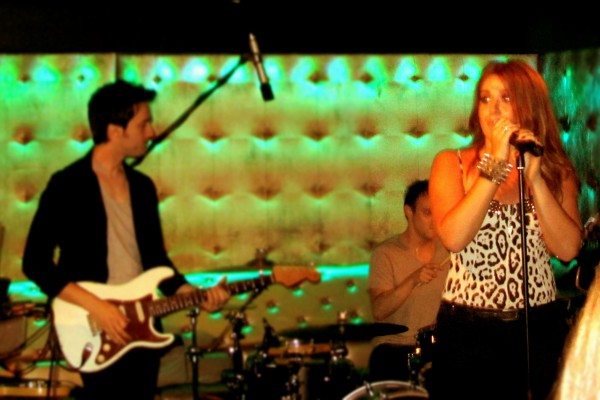 London, 27th July
The Cuckoo Club – Intimate, glamorous and today exclusively filled with 'invitation only' attendees – is the venue chosen for the launch of heavily hyped talent Daniela Brooker's new single 'Summer Love'.
On the back of previous single 'Heart Locked's success in the form of a multitude of US interview requests and airplay in an infamous Vegas strip club and Chris Evans' Radio 2 Breakfast Show, Ms. Brooker is cruising through the barriers to female singer-songwriter success with the ease that her self-penned combination of popcore, hip-hop, Latino and feline Anastasia-esque vocal delivery deserves.
This is how after over an hour of free drinks, cute mini-cuisine and media mingling she makes her arrival parting the packed audience and the carefully constructed environ of expectation and inebriation like a modern day Moses to take the stage – a prize fighter with only her own hype to contend with.
Daniela, a stunning mix of Venezuelan and British blood barely contained in leopard skin print has star presence and as she breaks into the first song of the set her energy and enthusiasm is instantly infectious.  What follows is previous single 'Heart Locked'; a perfect vehicle for this diva to show off the full force of her hard-hitting almost primal vocal delivery that is reminiscent of a young Aguilera.  Combine this voice with more hooks than a fishing village and you can see why she's causing such a stir on both sides of the pond.
Next up is 'Keep on the good times' , a truly affecting mix of soulful blue collar Americana, country and soft rock that wouldn't feel out of place residing high up both the Billboard and UK single charts with its emotive, 'happy in the face of adversity' feel and quietly sensational soothing quality.  This is the kind of sonic arena where Daniela's talent truly shines and where she radiates star quality in the vein of household names such as Adele.
Ironically, Ms. Brooker adds a cover of Adele's 'Someone like you' to her set list – a tall order by anyone's standards – and overstretches herself, allowing glaring glimpses of her limitations.  During her rendition it quickly becomes apparent that high notes are not her strong point as she naively attempts to copy the beauty of a track whose essence lies in its range (amongst others).
Single 'Summer Love' is a slick slice of sunshine pop that had the crowd on their feet and no doubt could become a club classic in the right hands, though unsurprisingly it proves emotionally shallower than her previous single 'Heart Locked' –   in this case no bad thing – and plays its hand far too early, but apart from that it is a lot of fun in a trashy beach novel kind of way.
The set ends with a song about 'shaking that body' whose mildly irritating chorus is only saved by Daniela's awesome vocal gymnastics, unbounded enthusiastic stage presence and attempts at crowd participation.
It's fair to say that Daniela Brooker went down a storm, aided no doubt by the free bar and the presence of her friends, and while it is safe to say that she has the potential to be 'the next Shakira' the event did display an unpolished diamond that will need a lot of work if she is to vie successfully with the likes of Jessie J and Adele.
Let's hope she has the work ethic to fulfil her potential, because the result would be incredible but right now the fear here is that she's a rich girl playing popstar and that just won't cut it in a business that's running scared.
Author:  Guy Waddington