Glaswegian band Stonesthrow to release album, have single up for limited free download
aaamusic | On 08, Aug 2011
Stonesthrow
Album: Judas or Rebel
Released: 7th September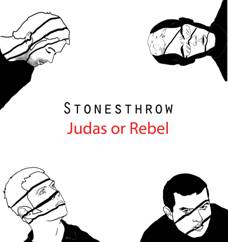 www.judasorrebel.com
www.myspace.com/stonesthrowuk
Stonesthrow is an up and coming Glasgow-based rock band made up of two sets of brothers:
Derek Murray (guitar/vocals), Andy Murray (lead guitar), Gary Smith (drums), Paul Smith (bass)
For well over 2 years the band have spent their days and nights exploring the limits of conventional recording techniques, spent fortunes on restoring vintage equipment to find that exact bigger than life sound, travelled Europe from studio to studio and walked in the footsteps of giants, literally using the same equipment, consoles and recorders as the Rolling Stones, Edith Piaff, Manic Street Preachers and Will.I.am.
Judas or Rebel, their debut album, is bound to become an explosive introduction to an already controversial band.
When the band recorded the first version of the album, they weren't quite happy with the sound, simply because they wanted to catch that unique overwhelming 70s live sound they have on tour. Instead of going back to the studio and tweaking the tunes to match their expectations, they simply started over. It basically meant that after having spent a small fortune on recording sessions in various studios, with record execs looking over their shoulder and already having a print and release date fixed, they took the rather bold decision to throw everything away and start from scratch. They re-recorded the album in 4 days, working between 18 and 21 hours per day.
On the last day of recording, Andy Murray, the band's lead guitar player, broke the neck of his precious Les Paul in half, literally, during his last solo take. Maybe that's what makes the solo on 'Stand to Lose' sound out of this world. Nonetheless, the band made this unfortunate event into a unique piece of music.
If bad luck hasn't yet proven its purpose during the recording of Judas or Rebel, the band's master files that were on a laptop were stolen recently in Belgium whilst they were travelling from venue to venue. Nonetheless, the band were able to restore everything in record time, basically by working day and night for about 10 days, but managing to pull it altogether in order to make their original release date.
The band have already performed with Glasvegas and recently supported Puressence in front of a packed ABC in Glasgow to a capacity 1400 people.
Their music has been used in several shows on Channel 4, S4C, ITV1, Sky Sports and the band was recently contacted by the legendary award-winning comic book writer Mark Millar (Kick Ass, Ultimate Fantastic Four, Wanted) in relation to a new superhero movie soundtrack. Ripcurl and O'Neill Sports have also adopted Stonesthrow's music in advertising campaigns targeting the USA, Australia and Asia.
For their upcoming album release, the band has already been invited to feature on several US college radio shows and they are offering 50,000 free downloads of the new single 'Tear it Down' from this album on www.judasorrebel.com
Live dates with more to be confirmed are:
August 6th @ The Doghouse, Dundee
Saturday 10th September @ The Bongo Club,, 37 Holyrood Road, Edinburgh, EH8 8BA – £5
Friday 16th September @ Nice 'N Sleazy, 421 Sauchiehall Street, Glasgow, G2 3LG – £5