Kalli – Last Train Home
aaamusic | On 08, Aug 2011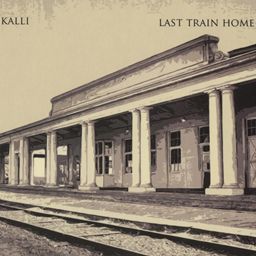 Holy impossibly gorgeous, delicate and harmonious folk rock Batman! …Hmm. On second thoughts, it's extremely difficult to make this style of music sound like it delivers the kind of raucous thrills that most tend to associate self-consciously "Edgy" music with. Make no mistake, this is not music to riot to, but you'd be a fool to say that, by process of elimination, that makes it either boring, not worth your time, or anything less than totally majestic.
In fact, this, the second solo album of Icelandic singer-songwriter Karl Henry, seems to pull off quite a neat trick here, these songs share similar themes and are similar enough musically to unite the record but not enough to feel samey, for most part anyway, with that in mind the album does seem to lull dangerously close to comatose midway through, saved by the impassioned vocals and inspired pedal steel work of Nothing At All, adding some ever-so-slightly welcome colour with smatterings of electric guitar. But for most part the songs are pieced together through fragile acoustic fingerpicking and Kalli's smoky, vulnerable voice.
Unfortunately, one man's "uniting theme" is another man's "similar songs" and it's not an entirely invalid criticism, opener Black to Blue and One Step Forward would be difficult to tell apart on a police line up, but it honestly never feels cynical or lazy. In fact quite the opposite, it feels honest. As if the songs came out naturally that way and to purposefully shove extraneous stuff onto a track merely to sound different would come across as horribly pretentious. So in all, highly recommended for this summer if it ever starts getting it's act together and being summer for a nice change and if not then give it a try anyway, chances are you'll stumble upon one of the many parts of this record that will leave you spellbound for days after.
Author: Will Howard