SuperHeavy – Album track listing revealed/ Miracle Worker video stills
aaamusic | On 11, Aug 2011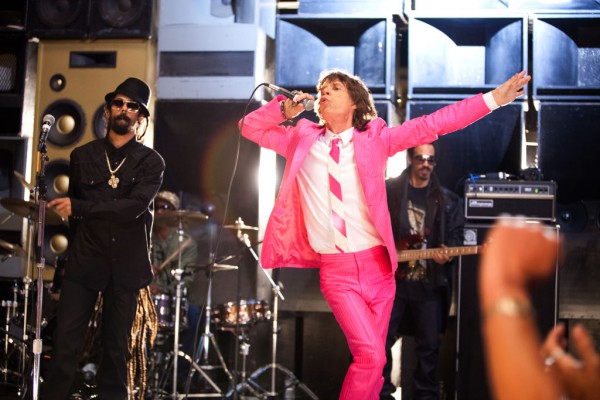 SUPERHEAVY
Mick Jagger- Dave Stewart- Joss Stone- Damian "Jr Gong" Marley- A.R. Rahman
SUPERHEAVY UNVEIL FULL ALBUM TRACK LISTING
RELEASED ON UNIVERSAL, SEPTEMBER 19

SuperHeavy, the brand new musical project featuring Mick Jagger, Damian "Jr Gong" Marley, A.R. Rahman, Dave Stewart and Joss Stone, are set to release their eponymously titled album on September 19 through Universal Music.  Co-produced by Jagger and Stewart the album was recorded in various studios around the world earlier this year, with the majority of the tracks laid down in LA. A standard and deluxe version of the album will be available both digitally and on CD. The deluxe package features 4 additional bonus tracks and expanded artwork by Shepard Fairey.
SuperHeavy fuses the talents of one of the greatest front-men of all time, Mick Jagger, Grammy/Brit/Golden Globe multi award winning, songwriter, producer and musician, Dave Stewart, a two time Academy award winning Indian composer and Asian superstar, A.R Rahman plus Brit /Grammy Award winning soul star, Joss Stone, and three time Grammy winning reggae star, Damian "Jr Gong" Marley.

Despite their disparate backgrounds they instantly connected and hit the ground running; "as soon as we started playing together in the studio it gelled, all these different styles, it didn't seem to be a problem to make them fit together" says Jagger.
This new and spontaneous way of working for all the collaborators has resulted in an explosive album that defies categorisation.  Debut single 'Miracle Worker', which was released in July, has received rave reviews, The Guardian said "this is great…bouncy, feelgood reggae…an instantly infectious tune".
Dave Stewart describes SuperHeavy as a 'mad alchemist type experiment', with Mick Jagger adding, "We didn't know what kind of music we'd make, we didn't know if it would be any good, but we hoped we'd have fun".
Main Credits on the SuperHeavy album are – Mick Jagger (vocals, guitar and harmonica), Dave Stewart (guitar), Joss Stone (vocals), Damian "Jr Gong" Marley (vocals) and A. R. Rahman (vocals plus a variety of keyboards).
Full album track listing :
1.Superheavy (Jagger/Marley/Stone/Stewart/Rahman)
2.Unbelievable (Jagger/Marley/Stone/Stewart/Rahman)
3.Miracle Worker (Jagger/Marley/Stone/Stewart/Rahman)
4.Energy (Jagger/Marley/Stone/Stewart)
5. Satyameva Jayathe (Rahman /Marley/Stone)
6.One Day One Night (Jagger/Marley/Stone/Stewart/Rahman)
7.Never Gonna Change (Jagger/Stewart)
8.Beautiful People (Jagger/Marley/Stone/Stewart/Rahman)
9.Rock Me Gently (Marley/Stone/Stewart)
10.I Can't Take It No More (Jagger)
11.I Don't Mind (Jagger/Marley/Stone/Stewart)
12. World Keeps Turning (Stone/Marley/Jagger/Stewart)
Bonus tracks:
1. Mihaya (Rahman/Stone/Marley)
2. Warring People (Jagger/ Marley/ Stone/ Rahman)
3. Common Ground (Jagger/ Marley/ Stone/ Stewart)
4. Hey Captain (Jagger/ Marley/ Stone/ Stewart)