Trailer Trash Traceys sign to Double Six, and release taster track from debut album
aaamusic | On 12, Aug 2011
TRAILER TRASH TRACYS
Sign to Double Six, release taster track "Dies in 55" from forthcoming debut LP
Listen to "Dies in 55" here:
http://soundcloud.com/dominorecordco/trailer-trash-tracys-dies-in/s-MNmpr
"A dramatic nocturnal wonderland" – Metro
"Low-lit, hot breathed noise pop that could just as easily be transported from a David Lynch soundtrack…gorgeous" – NME
"Both potent and poignant" – The Fader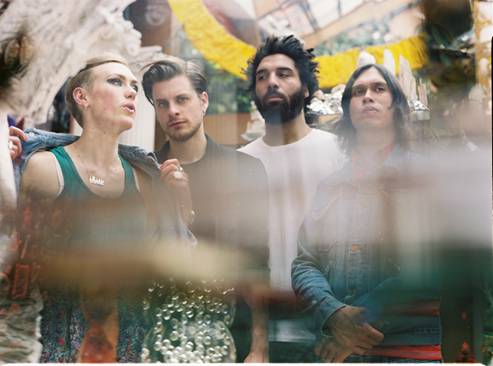 We are proud to announce that London quartet Trailer Trash Tracys have signed with Double Six, the sister label to Domino Records, with a much anticipated debut full-length expected in January 2012.
Trailer Trash Tracys – aka Suzanne Aztoria, Jimmy Lee, Adam Jaffrey and Dayo James –rose to prominence with the spiralling debut "Candy Girl/ You Wish You Were Red", which went on to be championed by the likes of Guardian and Dazed and Confused. Taking their cues from wide, varied influences and interests such as 'solfeggio harmonics, the transitionary period of analogue to digital in Western pop music and Sufi Poetry'", the quartet make kaleidoscopic yet otherworldly pop songs, a beautiful clash of exquisite and dissonant, loaded with tension and seemingly hovering on the brink of collapse. With their signing to Double Six, they join a roster which includes the likes of Spiritualized, Jon Hopkins and John Cale, with the shimmering taster track "Dies in 55" the first tantalising teaser of what's to come.